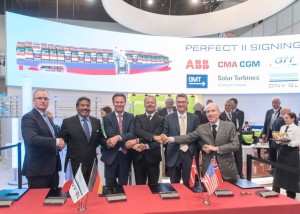 For the second phase of the PERFECt project, ABB, the Caterpillar company Solar Turbines and OMT have all jointed the plan for 'piston-free', or gas and steam turbine-powered propulsion to power an ultra large container vessel (ULCS).
Ludovic Gerard, executive vice president of CMA Ships, said: "CMA CMG and its subsidiary CMA Ships position themselves as pioneers by contributing to this worldwide leading innovation."
He added: "The COGAS system with electrical propulsion gives us a great deal of freedom in the general arrangement and in tailoring the installed power to the real operational requirements we are facing. New partners will bring their expertise to go further than the initial concept."
The first phase of the project shows promising compared to an LNG-fueled ship with a conventional propulsion system.
Based on the results of the first study, the PERFECt vessel design was found to offer potentially increased cargo capacity, greater layout flexibility and reduced maintenance costs.
PERFECt phase two will build on these results and utilize the technical expertise of the project partners to further optimize the overall design.
Some of the focus areas for phase two will be process technology optimization of the COGAS system which includes the steam turbine, use of the available cooling capacity of the LNG and further optimization of the ship design to attain greater efficiency and increased cargo capacity.
Phillipe Peterottiere, chariman and CEO of GTT, concluded: "GTT is pleased to collaborate with key technical and industry players to develop the project."
"The results of the first phase prove not only that the project is technically and economically viable, but also that the proven technologies can be deployed to make the PERFECt project a reality.