The apprenticeship-based UG degree program was formally launched in an impressive function held in New Delhi on February 04, 2019 (Monday).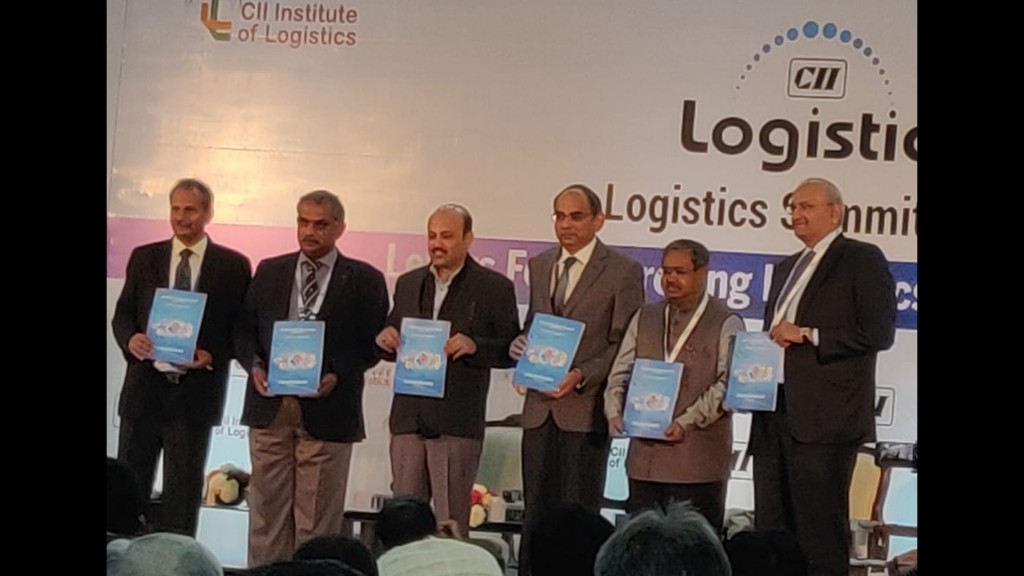 Left to right: Mr. K V Mahidhar, Executive Director CII-IL, Captain T S Ramanujam, Chief Executive Officer,  Logistics Skill Council (LSC), Mr Rajesh Agrawal Joint Secretary & CVO, MSDE, Mr. V.L.V.S.S. Subba Rao, I.E.S., Senior Economic Adviser & Additional Secretary, MHRD, Mr N Sivasailam I.A.S, Special Secretary, Department of Logistics and Mr R. Dinesh Chairman CII Institute of Logistics Advisory Council & Managing Director, TVS Logistics Services Ltd,  at Pragati Maidan
Logistics Sector Skill Council (LSC), established by the Ministry of Skill Development and Entrepreneurship (MSDE) through National Skill Development Corporation of India (NSDC), has designed an Apprenticeship-based UG Degree Program with the primary objective of creating adequate skills for gainful employment at supervisory / managerial levels in Logistics Industry.
At the inaugural function, welcoming the gathering Mr. R. Dinesh, Chairman, CII Advisory Council & MD of TVS Logistics Services Ltd said that huge employment potential in the fast growing logistics sector due to out-sourcing of logistics activity, is available and transformation of the Sector from largely unorganised to professionally organise is quite imminent. Congratulating LSC for promoting apprenticeship, for the past four years said Introduction of apprenticeship-based UG degree is the culmination of the sincere efforts made by LSC and workable model for a perfect linkage of Industry with Academia developed by LSC for the first time in the country. This became possible through the synergy between the Ministry of Human Resources Development, the Ministry of Skill Development & Entrepreneurship, and the Ministry of Commerce & Industry.
Mr. Sandeep Barasia, Co-Chairman CII National Committee on Logistics & MD of Delhivery Pvt LTD, briefed on eCommerce Sector – about developments in Logistics.
Mr. Mahendra Agarwal Chairman CII National Committee on Logistics and CEO & Founder of GATI Ltd, delivered his keynote address.
Mr. Dilip Kumar Gupta MD & Director (Projects) Sagarmala Development Company Ltd, made a detailed presentation on SDC, on his special address.
Mr. Bharat Joshi, Co-Chairman CII National Committee on Logistics & CEO of Jcurve Ventures Pvt Ltd, made his closing remarks at the end of the session. Mr. K T Mahidhar, Executive Director, CII – IL was also present on the opening session.
Later, Degree Apprenticeship program launched, in the presence of Mr. N Sivasailam, Special Secretary, Department of Logistics, Ministry of Commerce & Industry, GoI and the other dignitaries.
On his special address, Mr. Rajesh Agrawal, Jt. Secretary & CVO of Ministry of Skill Development & Entrepreneurship said that MSDE consider Logistics sector as crucial due to its potential for creation of gainful employment. Govt has many programs that are focused towards enhancing skills in the Logistics Sector such as Sagarmala Skills program and the MoRTH programs for Driver training. At MSDE Apprenticeship and the National Apprenticeship Promotion Scheme for the Services Sector has been introduced for the first time as Optional Trades and applauded, well-experienced professional team of LSC has created apprenticeship embedded UG degree programme that combines both worlds of academia and industry. Further added that MSDE is determined to make the skill embedded degree programme successful in coordination with MHRD.
Mr. Subba Rao, Senior Economic Advisor & Additional Secretary, MHRD, GoI said professionalising Humanities education through skilling has become priority for MHRD and it has taken a number of initiatives to embed skilling in higher education programmes. Apprenticeship embedded degree programmes is a logical step towards ensuring employability of graduates.
Skilling in higher education creates huge human capital that is industry ready with appropriate skills. He praised LSC, which came forward to design and launch this degree programme that would change the way students learn concepts and acquire skills.
Capt. T.S. Ramanujam, CEO of LSC said that the Council has been taking a number of initiatives with the support of industry to skill its human resources. Apprenticeship based UG Degree programme in Logistics is the only solution to the unsaturated demand for skilled young graduates for deployment at the supervisory level. This degree programme has been designed keeping in mind the various guidelines and norms of MHRD and MSDE. On successful completion of this degree programme, students possess a degree and 18 months of industrial experience. LSC has taken up curriculum development for this degree programme, faculty training, course material preparation, academic process audit, and securing apprenticeship & final placements to the students.
LSC is poised and fully prepared for launching this programme in the 18 institutions where this programme would be offered from the ensuing academic year and detailed list of institutions that collaborate with LSC.
The core focus of the programme is Skill Development, and hence nearly 60% of the programme component and duration constitute on-the Job Training in the form of Industry Apprenticeship.
Programme Details:
The UG Degree Programme consists of six Semesters (Three years). While the academic input is delivered in every Odd Semester, the practical component in the form of Apprenticeship Training is incorporated in Even Semesters.
The Programme Structure of the UG Degree Programme is built with
21 Papers at 7 per each Odd Semester
6 Practical papers at two per each Even Semester
3 industry-Certification courses at one in each Even Semester
On-the-job Apprenticeship Training for 18 months (450 days) spread equally across the three Even Semesters.
The students of the Degree Programme would acquire adequate and appropriate skills, making them fit for Supervisory / Managerial positions in Logistics Sector.
The Curriculum:
The Curriculum of the Degree programme has been developed by the Experts Committee constituted by LSC. The Experts Committee comprises both academia and industry executives. The Committee meets twice a year and modifies the curriculum based on contemporary developments and practices in the logistics industry.
Collaborative Institutions:
LSC has collaborated with 18 institutions across the country. The collaborating institutions include public universities, private universities, and autonomous colleges. The programme is introduced by these institutions in the ensuing Academic Year 2019-20.
Support from LSC:
Curriculum Development and Continuous Improvement
Designing & offering Allied Courses
Faculty Training
Securing Apprenticeship Training (OJT) in Logistics Companies for all students of this UG Degree Programme under the provisions of Apprenticeship Act, 1961
Securing a monthly Stipend of about Rs.6,000 per month during the Apprenticeship Training period for every student under the Apprenticeship Act
Assessing the performance & learning of students while in Apprenticeship
Securing final placements for all students on successful completion of the Degree Programme
Annual Assessment of Academic Process in the Participating Institution to ensure churning out skilled graduates in Logistics
Launching of the Programme:
MOU signed by the following institutions:
1. Andhra Loyola College (Krishna University), Vijayawada, Andhra Pradesh
2. Annamalai University, Chidambaram, Tamilnadu
3. Atmiya University, Rajkot, Gujarat
4. Dayalbagh Educational Institute, Agra, Uttar Pradesh
5. Girideepam Institute of Advanced Learning (Mahatma Gandhi University), Kottayam, Kerala
6. GITAM, Visakhapatnam, Andhra Pradesh
7. GITAM, Bangaluru, Karnataka
8. Hindustan University, Chennai, Tamilnadu
9. Jagan Nath University, Jaipur, Rajasthan
10. JIMS (Guru Gobind Singh Indraprastha University) New Delhi, NCR
11. KL University, Guntur, Andhra Pradesh
12. Prestige Inst. of Mgt. & Research (Devi Ahilya Vishwa Vidyalaya), Indore, Madhya Pradesh
13. PSG College of Arts & Science, (Bharathiar University), Coimbatore, Tamilnadu
14. Ramanand Arya D.A.V. College (University of Mumbai) Mumbai, Maharashtra
15. Seacom Skills University, Kolkatta, West Bengal
16. Sri Krishna College of Arts & Science (Bharathiar University), Coimbatore, Tamilnadu
17. St. Berchmans College (Mahatma Gandhi University), Chenganacherry, Kerala.
Utkal University, Odisa would be signing up with LSC during the next 10 days.