Follows close on the heels of the company's partnership with BEUMER Group India serving retail giant Future Group
Armstrong, India's leading intra-logistics automation solutions provider has signed a co-operation agreement with Pitney Bowes, based in Connecticut, USA. Pitney Bowes is NASDAQ listed company that offers solutions in customer information management, location intelligence, shipping, mailing and more. Its clients, including 90 per cent of Fortune 500 firms, rely on it for analytics and APIs to drive commerce.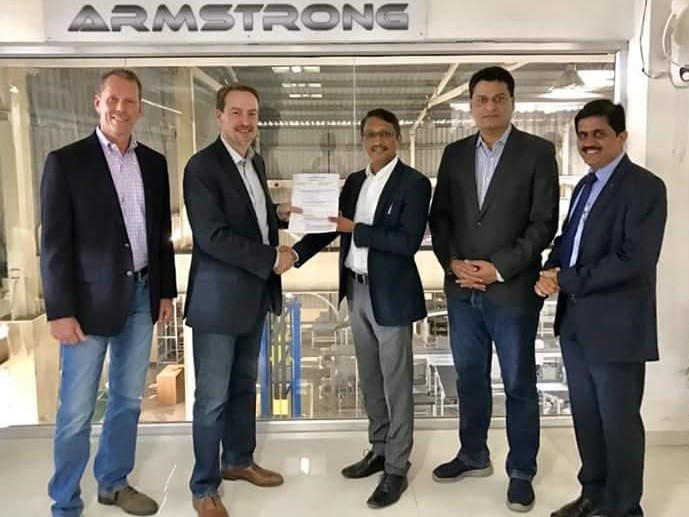 Commenting on the agreement, Mr Vineet Majgaonkar, Chairman, Armstrong, says, "Our agreement allows Pitney Bowes to market and service Armstrong's solutions. It also marks their entry into the parcel sortation business in India. With a strong focus on innovation, our transformational solutions have already made us leaders in India, and our partnership with Pitney Bowes will help us expand globally. We are excited to develop newer technologies and automations that will benefit customers across the world."
Mr Venkat Rao, Country General Manager, Pitney Bowes, India, adds, "For Pitney Bowes, the partnership with Armstrong will help us get sophisticated sorting solutions produced by Armstrong at Indian prices. We get access to key customers that Armstrong has, a readymade system to serve them and get not only a price advantage but the much-needed tech support in a market like India."
Pitney Bowes-Armstrong also recently installed TrueSort, a fully automated parcel sorting solution at Gati-KWE, India's leading express distribution and supply chain solutions provider.
After last month's partnership with BEUMER Group to build India's first fully automated high-speed cross belt sorting system for the Future Group, this is Armstrong's second big move.
The company launched Future Group's first fully automated, High Speed Cross Belt Sorting system, at FSCL's Distribution Centre Mihan, Nagpur. A first in India, this system was inaugurated by Nitin Gadkari, Honourable Minister of Road Transport & Highways of India & Mr Kishore Biyani, Group CEO at Future Group. This state-of-the-art sorting centre has been conceptualized by Crimson & Co, India and executed by BEUMER Group headquartered in Germany while adhering to the Make-in-India under Beumer Group India