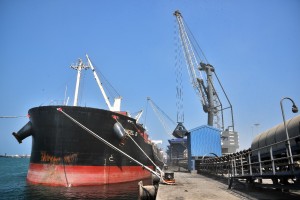 V O Chidambaranar Port Trust created a new record by handling 1,61,935 Tonnes of cargo in a single day on 15.04.2017 surpassing the previous Single Day record of 1,61,108 Metric Tonnes on 10.08.2015. The major cargoes that contributed to the achievement are Industrial Coal, Thermal Coal, Wheat, Fertilizer, Limestone and Containers Cargo.
It's a matter of pride that the Port had made an all-time high record cargo throughput during the last financial year by handling 38.46 Million Tonnes with a 4.38% surge in cargo growth rate.
Shri. S. Anantha Chandra Bose, V O Chidambaranar Port Trust , while thanking all the stake holders, Officers and the employees of the Port who have contributed to achieve this record, conveyed that  this Port is continuously striving to achieve improvement in performance and productivity in order to attract more volume of traffic through the Port.