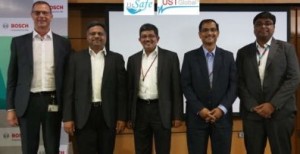 Bosch's mySPIN platform now comes with UrSafe – in-car passenger safety app
UrSafe comes integrated with Panic Button to alert driver's family and friends of their whereabouts during a crisis
UST Global, a US-based leading digital technology services company, today announced that it has partnered with Bosch to offer its in-car passenger safety app – UrSafe. UrSafe comes integrated with Panic Button to alert a user's (driver or passenger) family and friends of their whereabouts during a crisis, and is now available on Bosch mySPIN solution. mySPIN bridges the gap between vehicle and the smartphone. This innovative platform transfers the interface from the phone to in-car infotainment touch-screen, to allow users, access to mySPIN-compatible apps, thus significantly enhancing user experience.
UST Global has designed and developed UrSafe to ensure the user's safety. It enables the user (driver or passenger) in crisis to send an alert to a phone number that would have been added by the user. The person receiving the alert can then track down to the location of the user.
The user (driver or passenger) needs to download the UrSafe app on their mobile phone and follow the registration process. On adding a contact number, to which an alert is to be sent during a crisis, an SMS is sent to them, notifying their addition as an emergency contact. The SMS also requests them to install the UrSafe app onto their device. The user (driver or passenger) can then connect the phone to mySPIN platform in the car.
Key features of UrSafe:
Powerful UI that is easy to navigate
UrSafe Panic Alert page to invoke panic alert and edit emergency contact
Emergency Services feature with all the important emergency services such as the nearest ATM, car services, petrol pump and hospital
Nearest Police Station feature with map view of all nearby police stations
Friend Tracker feature lists emergency requests from family and friends along with map to navigate through to them
Bosch mySPIN platform includes Indian and global apps that range from navigation, news, music, lifestyle, weather, car radio among others. All of the apps approved for mySPIN have been specifically developed for use while driving so that there is little distraction as possible – assuring greater safety. Bosch mySPIN is committed to make in-car experience more exciting in a safe and secured way.
Mr. Gilroy Mathew, GM – APAC, UST Global, said, "We are proud to partner with Bosch for their mySPIN platform. UST Global is at the forefront of innovation and digital disruption. Through our cutting-edge, consumer-focused innovation, we deliver real-world solutions that enable our clients to profitably transform their businesses and the lives of their customers. UrSafe is one example of the commitment to our mission of Transforming Lives through our pillars of Accelerating Possibilities for Digital Transformation through Human Centered Innovation."
"mySPIN technology enables people to have seamless digital experience in a convenient and safe way. We are excited to be collaborating with UST Global to bring out one of the advanced connected Car solutions," said Mr. Sri Krishnan, Vice President, Robert Bosch Engineering and Business Solutions.