The 8th India Warehousing Show ended on a high note cementing its position as a market leader
The 8th edition of India's truly global logistics show- India Warehousing Show 2018 (IWS2018) concluded with flying colours. The show undoubtedly proved itself as the biggest and the most popular show on logistics, warehousing, automation, material handling and supply chain bringing together over 10, 976 unique visitors from June 21 to 23 at Pragati Maidan, New Delhi. The most innovative and latest products & solutions by leading companies, who were the exhibitors at the show, were unveiled and demonstrated attracting many eyeballs.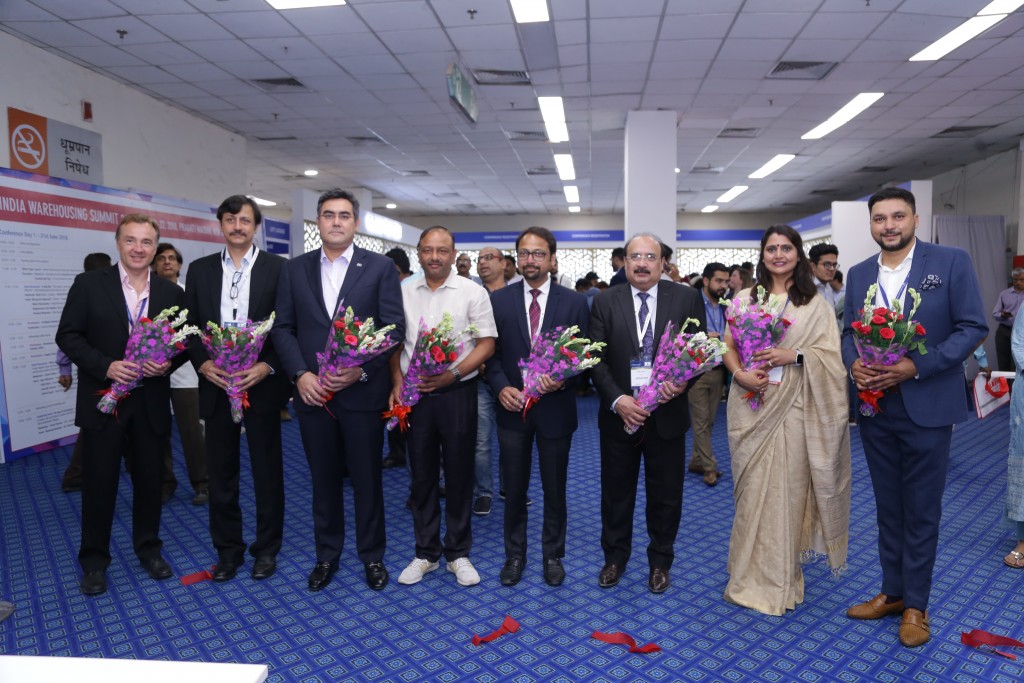 The morning of June 21st witnessed a grand opening of the much awaited, India Warehousing Show 2018 by industry veterans and eminent personalities. The show kick-started along with India Warehousing Summit- India's leading intra-logistics industry conference. For the first time, Reed Manch Exhibitions, the organisers of India Warehousing Show along with ESR, a leading pan-Asia logistics real estate developer, owner and operator presented their maiden edition of Warehouse Excellence Awards. The awards were an initiative to recognise and appreciate companies that are constantly evolving themselves, upgrading their current facilities, technologies and redefining their processes. Through these accolades, the aim was to highlight & promote companies and their best practices in the industry.
Show floor action: The largest ever show floor area of 11,000 sqm hosting 250+ Indian and international companies as exhibitors. The floor demonstrated and displayed all the five verticals of logistics such as warehousing infrastructure solutions, material handling, automation, packaging and supply chain under one umbrella. A number of new products were unveiled during the three days. Companies such as Jungheiurich, SSI Schafer, Grey orange, Armstrong, Zirkel Infraca, Honeywell, SGS Fabrications Works, Nido, Great Eastern, Pepperl Fuchs and many more conducted live demos and launched their new offerings at the show.
Open floor workshops: India Warehousing Show hosted two noteworthy workshops on June 22, 2018. The workshops revolved around topics such as 'Sustainability in Warehousing' and 'I have land & I want to open a warehouse'. The workshop on Sustainability in Warehousing highlighted ways to reduce the operational costs involved in warehousing by going green and sustainable. Apoorv Vij, Senior Manager-Technical Dev. GBCI, moderated it. The second workshop on I have land and I want to open a warehouse was moderated by Arif Siddiqui, Managing Director, Coign Consulting, a renowned supply chain consultant. This workshop gave insights into how to start up a business in the warehousing sector, understand the crucial role of location in warehousing and related. A remarkable number of visitors converged at the time of these workshops making it one of the key highlights of the show.
India Warehousing Summit: India's most relevant and unique conference on the intra- logistics industry brought together over 193+ delegates. These delegates came from various walks of not just the intralogistics industry but also from FMCG, retail, eCommerce, electronics, investment providers and many more verticals making the conference truly versatile and relevant for all. The conference also hosted over 52 key speakers who are industry experts and think tanks bringing their knowledge and expertise. The carefully curated agenda of this two-day conference was derived based on meticulous industry feedback and survey that the team carried out. Day 1 of the conference witnessed White Paper Launch by JLL India. The White Paper themed Indian Warehousing: The Evolutionary leap forward aiming to display India's position in the evolution of logistics. It gives a snapshot of current trend and market dynamics that will boost growth and pave the way for the future.
With an aim to create a dedicated business matchmaking programme, GoConnect- is an online platform to pre-fix meetings with suppliers to bolster business relationships. There were over 782 pre-schedule appointments. In addition, an exclusive VIP buyer programme hosted decision makers from key companies as VIPs. The show welcomed over 650+ VIPs from prominent brands such as Hindustan CocaCola, Samsung Electronics, Walmart India, Dominos, Grofers, PepsiCo, Myntra, BlueDart, Honda, Yes Bank and many more. Sponsorship and associations: Foundation Partner: Indospace, VIP Partner: Embassy, Conference Partner: Allcargo Logistics, Networking & Awards Partner: ESR, Warehouse Partner: Ascendas, Technology Partner: Armstrong, Gold Partner: Gandhi, Connectivity Partner: Honeywell, Silver Partner: Kelley, Zirkel Infarca, Nido, Gati Limited, Official Supply Chain: Greyornage, Bronze: Carryfast, Delegate Kit Partner: DeeEss, Knowledge Partner: JLL, Panel session partner: Realistic Realtors and Sustainability Partner: GBCI. The
Associations that supported us this year were AIDC Technologies Association of India (AIDCTAI), Supply Chain & Logistics Group (SCLG), Packaging Industry Association of India (PIAI), Consolidators Association of India (CAI), Indian Private Ports & Terminals Association (IPPTA), Container Freight Station Association of India (CFSAI), The Air Cargo Agents Association of India (ACAAI) and The Federation of Indian Export Organisations (FIEO). 28+ media tie-ups with formed giving extensive coverage and publicity.
——————