Tata Motors, along with its distributor, Sipradi Trading Pvt. Ltd announced its entry into the growing Compact SUV segment in Nepal with the commercial launch of the new Gen-next lifestyle SUV, the Tata NEXON on 22nd February. It is Tata Motors' fourth product based on the 'Impact Design' philosophy. Combining contemporary design with best-in-class technology and features, the Tata NEXON is intended for customers who like their car to make a unique style statement.
Launched at an introductory price of Rs. 32,75,000 for the petrol variant and Rs. 41,55,000 for the diesel variant, Tata NEXON is one of the most competitively priced SUVs in its segment. The vehicle is available for sale in 20 authorized sales outlets across Nepal.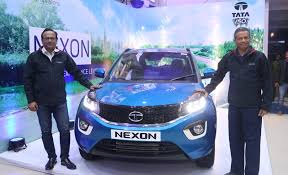 Speaking at the launch, Mr. Sujan Roy, Head – International Business, Passenger Vehicle Business Unit, Tata Motors, said, "As part of our business strategy, we are renewing the focus on filling product gaps and tapping emerging white spaces. We introduce products that not just enhance the brand but are aligned with the rising aspirations of customers. The Tata Nexon It is the culmination of this radical shift in thinking and will further expand Tata Motors' addressable market."
Unveiling the Tata NEXON, Mr. Siddhartha SJB Rana, Executive Chairman, Sipradi Trading Pvt. Ltd., said, "With the launch of the Tata Nexon, we have now expanded our business beyond hatchbacks and sedans. This is our first big step into the Compact SUV segment, and we are proud to do it with a high-quality product from the house of Tatas."
The Tata NEXON is a revolutionary design of "breaking the box" with an aerodynamic silhouette. This enhances its sporty character and marks an evolution in SUV design by combining the functionality of an SUV with style of a sports coupe.
Tata Nexon is available in four variants (XE, XM, XT, and XZ+) and five colours (Vermont Red, Moroccan Blue, Seattle Silver, Glasgow Grey, and Calgary White), with a standard warranty of 75,000 km or 3 years, whichever is earlier.