Key growth drivers: Passenger Vehicles (45%), I&LCV (54%), SCV Cargo & Pickups (50%), MHCV (25%)
In February 2018, Tata Motors registered a growth of 38% at 58,993 units as against 42,679 units due to the continued strong sales performance of its Commercial and Passenger Vehicles Business in the domestic market.
Domestic – Commercial Vehicles
Tata Motors' Commercial Vehicles domestic sales in February 2018 were at 41,222 units, a growth of 36% compared to 30,407 units in February 2017 on the back of robust infrastructural developments, fresh tenders in car carriers, coal movement and the petroleum sector. The growth was also bolstered by increasing demand from construction, growing logistics, e-commerce and FMCG applications. The month on month growing trend in the Commercial Vehicles sales performance in the domestic market resulted in a growth of 21% at 350,144 units in the cumulative year (April 2017- February 2018), over last year.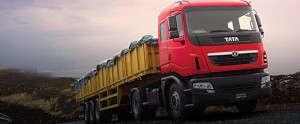 The M&HCV truck segment continued to be buoyant and the sales were 15,241 units, higher by 25%, over last year. Key factors such as stringent restrictions on overloading, replacement buying and various infrastructure projects continued to drive demand for higher tonnage trucks and tippers.
The I&LCV truck segment has been witnessing a strong month on month sales performance and in February 2018 recorded a growth of 54% at 4,810 units, aided by an increased thrust in Agriculture based, FMCG and E-commerce sectors. Increasing demand for container and refrigerated trucks also led to this growth.
The SCV Cargo and Pickup segment sales at 16,014 units, reported a robust growth of 50% over last year, on the back of new product introductions and an uptick in buying sentiments especially with the e-commerce sector and Government/Municipal applications.
The commercial passenger carrier segment witnessed a growth of 16%, at 5,157 units, compared to last year.  This growth is driven primarily by the increase in demand for school buses due to the start of the annual school season.
Domestic – Passenger Vehicles
Tata Motors' Passenger Vehicles sales performance was at 17,771 units as against 12,272 units, a robust growth of 45% over last year on the back of increasing demand of Tiago and Tigor along with Nexon and Hexa gaining traction in the steadily growing UV Segment. The Passenger Car segment registered a strong growth of 17% while the UV segment grew by 165% clearly showing a trend of growing customer base across segments. Cumulative sales growth of Passenger Vehicles in the domestic market (April 2017-Feb 2018) was at 167,055 units compared to 137,718 units, a growth of 21% over last year.
Exports
The company's sales from exports in February 2018 was at 4768 units, a decline of 3% over last year