Hyderabad facility will be sole producer of AH-64 Apache helicopter fuselages globally
 Delivery of the first fuselage expected in 2018
 Partnership reaffirms commitment to 'Make in India'
Tata Boeing Aerospace (TBAL), a joint venture between Boeing and Tata Advanced Systems (TASL) today inaugurated its state-of-the-art facility in Hyderabad. Spread over 14,000-square meters and employing 350 highly skilled workers, the facility will be the sole global producer of fuselages for AH-64 Apache helicopter delivered by Boeing to its global customers including the U.S. Army. The facility will also produce secondary structures and vertical spar boxes of this multi-role combat helicopter. The delivery of the first fuselage is expected in 2018.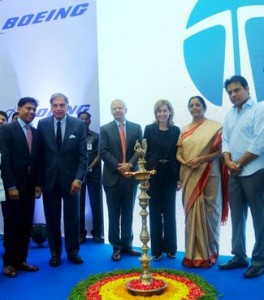 Pratyush Kumar, president, Boeing India; Ratan N Tata, Chairman Emeritus, Tata Sons; Kenneth Juster, US Ambassador to India; Leanne Caret, president and chief executive officer, Boeing Defence, Space & Security; Nirmala Sitharaman, Minister of Defence, Government of India; and KT Rama Rao, Cabinet Minister for IT E&C, MAUD, Industries and Commerce, Mines & Geology, Public Enterprises and NRI Affairs, Government of Telangana; at the inauguration of the Tata Boeing Aerospace state-of-the-art Apache fuselage facility in Hyderabad.
"I congratulate Tata and Boeing for taking this bold step towards Make in India and making this substantial investment in the defence space," said Nirmala Sitharaman, Minister of Defence, Government of India. "The manufacturing of advanced defence platforms and being integrated with the complex global supply chain will help our aerospace industry acquire technology, build local capability, provide employment and become a global exporter."
TBAL, Boeing's first equity joint venture in India, is the result of a 2015 partnership agreement with TASL. Construction of the manufacturing facility began in 2016 and was completed on schedule. In addition, Boeing and TASL have worked closely to develop a pool of highly skilled aerospace talent through skill development initiatives.
"TBAL is just the beginning of Boeing's future journey of partnership with India," said Pratyush Kumar, president, Boeing India. He further added, "As we progress, we see this as a major step towards future opportunities to pursue the co-development of integrated systems in aerospace and defence. Our partnership with Indian industry fulfils the goals of the 'Make in India' initiative and results in mutual growth and productivity growth for both India and Boeing."
"Tata is a significant player in the global aerospace market focused on leveraging opportunities in global markets and reducing India's reliance on imports in defence related requirements, 60% of which is met through imports. With the streamlining of the export regulation process under the Strategy for Defence Exports (SDE) of the Government of India, and with established capabilities and demonstrated deliveries, we are poised to emerge as a supplier of choice for global OEMs," said Banmali Agrawala, president, infrastructure, defence and aerospace, Tata Sons.
Sukaran Singh, MD and CEO, TASL, said, "The inauguration of the TBAL facility marks an important milestone in our collaborative engineering journey with Boeing. As India focuses on indigenous manufacturing in the defence market, this partnership is testimony to Tata Group's commitment to develop global high-end technology in defence manufacturing, making India more self-reliant."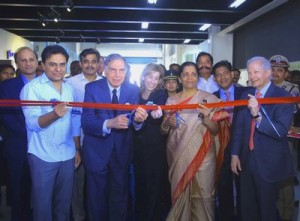 Dignitaries at the ribbon-cutting ceremony to inaugurate the Apache fuselage facility
TASL, the strategic aerospace and defence arm of the Tata group, is a key player in the global aerospace and defence market. With established capabilities throughout the aerospace value chain from design to full aircraft assembly, it is a premier manufacturing partner for global original equipment manufacturers (OEMs) as well as the Government of India's Defence Research and Development Organisation.
More than 2,300 Boeing-made Apache helicopters are operated by customers around the world since the aircraft entered production. The United States Army Apache fleet alone has accumulated more than 4.3 million flight hours, including more than 1.2 million in combat, as of January 2018. The helicopter has been fielded or selected for acquisition by the armed forces of 16 countries, including India.
Boeing is expanding its engagement with India's Ministry of Defence to deliver advanced capabilities and readiness to the Indian military. The company has developed a competitive supplier base in-country that is integrated into Boeing's global supply chain. The Indian Ministry of Defence finalised an order with Boeing for 22 AH-64E Apache helicopters in September 2015, deliveries for which are scheduled to begin in 2019.