No-frills airline SpiceJet on Monday operated India's first test flight powered by biojet fuel, marking a new chapter in the fast-growing domestic aviation sector
The nearly 45-minute flight from Dehradun to the national capital was operated with a Bombardier Q400 aircraft, partially powered by biojet fuel made from Jatropha plant, according to an airline official. The flight landed at around 1150 hours here
With the test flight, India has become one of the few countries and probably the first among the developing nations to use biofuel for flying planes
SpiceJet today said it has successfully operated "India's first ever biojet fuel flight"
It also comes at a time when the airline industry is grappling with spiralling fuel prices that are impacting their profitability. However, use of biofuel for regular flights would take some time
For the test flight, which carried 28 people, including five crew members, the aircraft's right engine was filled with 75 per cent aviation turbine fuel (ATF) and 25 per cent of biojet fuel, made from Jatropha plant, the airline official said
The fuel was prepared by the CSIR-Indian Institute of Petroleum (IIP), Dehradun. The institute's Director Anjan Ray said around 330 kg of biojet fuel was made for the little over 40-minute flight
Noting that it was a "historic occasion" to operate the test flight, SpiceJet Chairman and Managing Director Ajay Singh said India is the first among developing countries to fly flight powered by biojet fuel.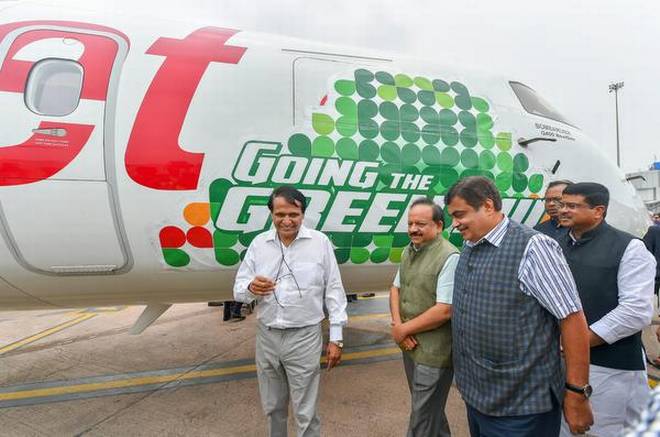 Photo Courtesy: The Hindu
In a release, SpiceJet said the advantage of using biojet fuel as compared to ATF is that it reduces carbon emissions and enhances fuel efficiency
At a function to mark the successful operation of the test flight here, Civil Aviation Minister Suresh Prabhu said efforts are on to have a consumer-friendly, affordable and environment-friendly aviation sector.
Road Transport Minister Nitin Gadkari said the government plans to come out with a "special policy" for use of biofuel in the aviation sector
"Taking our biofuel mission forward @PetroleumMin will be bringing a new Bio- ATF Policy soon," Petroleum and Natural Gas Minister Dharmendra Pradhan said in a tweet
Science and Technology Minister Harsh Vardhan said biojet fuel is carbon neutral and that only "three to four nations are using biojet fuel"
He also emphasized that ways should be explored to scale up production of such fuels
Minister of State for Civil Aviation Jayant Sinha was also present on the occasion
All the ministers mentioned that increased use of biofuels would also benefit farmers and also help in reducing oil import bill
Biojet fuel is low cost and helps in significantly reducing carbon emissions. "It has the potential to reduce our dependence on traditional aviation fuel by up to 50 per cent on every flight and bring down fares," Ajay Singh said
Among others, officials from aviation regulator DGCA, SpiceJet and the IIP were in the test flight, which was flagged off by Uttarakhand Chief Minister Trivendra Singh Rawat at Dehradun. The Q400 aircraft has 78 seats
The biojet fuel has been recognised by American Standard Testing Method (ASTM) and meets the specification standards of Pratt & Whitney and Bombardier for commercial application in aircraft
According to global airlines' body IATA, aviation industry contributes to 2 per cent of the total global greenhouse gas emissions
The IATA has also set out a target for one billion passengers to fly on aircraft using a mix of clean energy and fossil fuels by 2025, the release said. SpiceJet has a fleet of 36 Boeing 737NG and 22 Bombardier Q400 planes. On an average, it operates 412 flights daily.