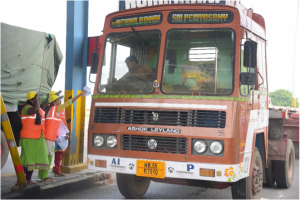 V.O. Chidambaranar Port, the vibrant Sea Port of South India has been witnessing steady growth in Cargo traffic and has handled 25.23 Million Tons of Cargo up to November 2016. The cargoes handled through the Port are mainly moved by road. Hence, the growth in traffic has equally surged the moment of Cargo trucks in and out of the Port roads. In a day, approximately 3000 nos. of EXIM cargo truck ply round the clock in the Port connectivity roads. In order to inculcate a strong safety culture among the Truck Drivers, Cleaners and Two Wheeler Commuters, V.O. Chidambaranar Port organised a one day Road Safety Awareness Campaign on 20.12.2016 involving the students of St. Mary's College, Tuticorin.
Shri U. Rajendran, Traffic Manager welcomed the participants and spoke about the objectives of the Road Safety Awareness Programme. Shri Varadharajan, Assistant Director (Safety), Shri C. Selvaraj, Labour Trustee, Shri P. Raveendran, Chief Mechanical Engineer, Shri Suresh Patel, Chief Engineer and Special invitee Shri G.P.Joe Prakash, President, Tuticorin Tipper Lorry Owners Association delivered their message on road safety and its' significance, Road Safety Rules and Challenges faced in ensuring Road Safety.
The students of St. Mary's College, Tuticorin distributed the pamphlets on road safety to the Lorry drivers & cleaners and two wheeler commuters at Check Post-I, Green Gate, Lorry Parking yard and Container pass section. Conclusively, the students along with their teachers briefed Shri S. Anantha Chandra Bose, Chairman, V.O. Chidambaranar Port Trust about their observations made during the road safety awareness campaign.