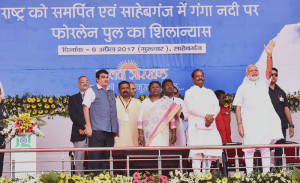 Prime Minister Shri Narendra Modi today laid the foundation stone of the multi-modal terminal at Sahibganj, Jharkhand. The terminal at Sahibganj is an important component of the Jal Marg Vikas Project (JMVP) for the augmentation of the navigation capacity of National Waterway-1 (Ganga) from Varanasi to Haldia (1390 km). Union Minister of Road Transport & Highways and Shipping Shri Nitin Gadkari was also present on this occasion.
Speaking on the occasion the Prime Minister said that the Sahibganj Multi Modal Terminal will link the city and the landlocked state of Jharkhand to foreign shores through the Bay of Bengal. Speaking on this occasion Union Minister for Road Transport and Highways and Shipping Shri Nitin Gadkari said that Sahibganj multi-modal terminal will prove growth engine for Jharkhand. He said that for the first phase of the project, work of Rs 280 cr has already been awarded. . He added that the terminal will generate considerable direct and indirect employment for local people also.
A Roll-on Roll-off (Ro-Ro) terminal at Sahibganj will provide critical connectivity to Bihar at Manihari for the cross –river movement of loaded and empty trucks. This will considerably reduce the cost and time of cargo movement between Sahibganj and Manihari. The state of the art terminal at Sahibganj will have cargo handling capacity of 2.24 Million Tons Per Annum (MTPA) on completion in 2019. The overall cost of the Sahibgang terminal is estimated to be Rs 467 Crore. Jharkhand is richly endowed with mineral resources. The multi-modal terminal at Sahibganj will play an important role in transportation of domestic coal from the local mines (in Rajmahal area) to various thermal power plants located along NW-1.
The terminal facilities will include berthing space for two vessels, stockyard, conveyor belt system with hoppers, barge loaders, shore protection works, roads, ramps, parking area, and terminal buildings. The construction of multi-modal terminal and Ro-Ro terminal will help create substantial direct and indirect employment in Sahibganj and Jharkhand. Overall additional employment opportunities for 1.5 lakh persons are expected to be generated under the Jal Marg Vikas Project on Ganga river.
Sahibganj terminal is the second multi-modal terminal (out of the three) to be constructed on NW-1. In May 2016, IWAI had awarded the contract for the construction of a multi-modal terminal at Varanasi. The third terminal will be constructed at Haldia in West Bengal where the work is expected to commence soon. River Ganga is being developed under the Jal Marg Vikas Project (JMVP) with the technical and financial assistance of World Bank at an estimated cost of Rs. 5369 crore. The project would enable commercial navigation of vessels with capacity of 1500-2,000 DWT.