The second edition of ATMA Partners Summit culminated with a call for better synergy and collaboration between tyre industry and raw material partners so as to develop products that set a new benchmark of quality, technology, fuel efficiency and environment protection.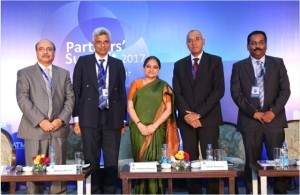 (From left Mr. Rajiv Budhraja, Mr. Mohan Kurian, Dr. Vandana Kumar,  Mr. Satish Sharma, Mr. Krishhna Mohan at ATMA Partners Summit)
Tyre industry received an encouraging gesture from Government of India for its immense potential and for its capacity to become a growth engine for the manufacturing sector. Joint Secretary, Department of Industrial Policy & Promotion (DIPP), Dr. Vandana Kumar while delivering the theme address said, "The outlook for tyre sector was highly positive."
"Tyre industry is on the cusp of significant growth as the Government's  focus on infra and road development is unmistakable. Support of raw material partners is vital to meet the ever rising expectations of Auto sector and customers from the tyre industry", said Satish Sharma, Chairman ATMA in his keynote address.
Welcoming the delegates, Mohan Kurian, Convener ATMA Supply Chain & Resources (SCR) Group said, "Partners' Summit celebrates the long-standing and time tested relationship between the industry and raw material partners. The second edition of Partners Summit is sharply focused on developing self sufficiency in sustaining tyre industry value chain."
Partners Summit had a glittering array of representatives from tyre industry and raw material providers. "The summit explored how the stakeholders in the tyre value chain could together respond to the fast unfolding changes, benefit from the emerging opportunities and work towards creating a more sustainable ecosystem", said Rajiv Budhraja, Director General ATMA.
Three international experts made a presentation each on Carbon Black (Ranjan Ghosal, Head Global R&D, Birla Carbon), Rubber Chemicals (R. M Gadgil, President Marketing NOCIL) and Silica (R. Muralidharan, Business Head Evonik India).
Tyre is a raw material intensive industry with raw materials alone accounting for 60% of industry turnover. The summit was organized to facilitate an open discussion on how India could achieve self sufficiency in sustaining tyre industry's value chain. Accordingly, only those raw material partners who have a production base in India were invited for evolving a roadmap for the future. This will go a long way in securing raw material supplies and safeguarding the interests of industry and its stakeholders from global volatility and uncertainties. In its own way, the summit espoused the spirit of Make-in-India.