Orissa Bengal Carrier Limited, incorporated in the year 1994, is a Raipur, Chhattisgarh based logistics company engaged in goods transportation business. The company is one of the IBA approved transporter having ISO 9001:2015 certification for provision of Quality Management System Service. It serves a broad range of industries, including the steel, coal, aluminum, cement, petrochemicals, paper, marble, tiles, infra, textile, FMCG. The various types of services provided by the company include: Full Truck Load Transport Services, Parcel and Part Truck Load Services/less than Truck Load (LTL).
The company has a network 45 branch offices spread across the various regions of the country, which serves as strategic hubs for its operations. It has a diversified customer base spreading to over 200 customers as on September 30, 2017. The clientele includes public sector undertakings, corporate and other private players from steel, aluminum, cement, petrochemicals, power, chemicals, marble, tiles, infra, textile, FMCG to name a few.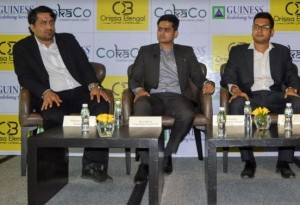 L to R: Nikunj Mittal, MD, NNM Securities, Ravi Agarwal, Promoter Group, Orissa Bengal Carrier Ltd. and Anand Kothari, Guiness Corporate Advisors, addressing a Conference in Mumbai
OBCL has  launched its maiden IPO offering 55,64,000 equity shares at issue price of Rs. 30 each making the issue size of round Rs. 16.69 Crores. The IPO opened on 22 March and will close on 26 March, 2018. The Shares of the will list on BSE, SME platform. The sole lead manager to this issue is Guiness Corporate Advisors Private Limited and Registrar to the issue Is Bigshare Services Private Limited. The main object of the company to come up with an IPO are Funding working capital requirements and meet the expenses of the Issue.
Talking on the context of Utilizing funds raised the IPO, Mr. Ratan Kumar Agrawal, Managing Director, Orissa Bengal carrier limited said, "The Logistics industry future is bright and growing and to cater the requirement adequate working capital is required for smooth and uninterrupted operations of the company and will enhance the turnover and profits of the company."
On the Financial front, PAT of Orissa Bengal Carrier Limited during the year 2015 – 2016 Rs. 1.82 Crore and in the very next year in 2017 it rose to Rs. 3.95 Crore. The PAT for the six months ended September 30, 2017 is 3.51 Crore (not annualized). The company's management is optimistic of an improvement in financial results.