Oman's Oil & Gas Industry Supplier Certification System Woos Indian Companies.
Oman's Oil & Gas Industry Supplier Certification System Woos Indian Companies business gateways showcases Oman's unique 'Joint Supplier Registration System' (JSRS), the Gateway to Oman's business opportunities Business gateways, Oman presented the Joint Supplier Registration System (JSRS) exclusively to Indian companies that were interested in expanding their business into Oman's Oil & Gas procurement & projects.
Riding on the robust Indo-Oman bilateral trade relationship, business gateways, Oman in association with the Indo Arab Chamber of Commerce & Industry (IACCI) conducted its first in the series of 'JSRS Seminars' planned across the metropolitan cities of India. The objective of the seminar was to create awareness on Oman's huge business potential and invite Indian Companies to join hundreds of JSRS Certified Indian suppliers on the JSRS.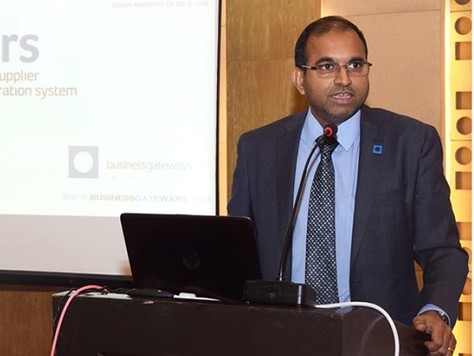 Hemant Murkoth – CEO, businessgateways
The seminar showcased the JSRS as well as presented information on huge procurement opportunities for Indian companies to identify new potential & participate through the national procurement system with many thousands of suppliers across 90+ countries.
What is JSRS?
The 'Single Window' Joint Supplier Registration System (JSRS) is Oman's national mandated procurement system for the entire Oil & Gas Industry. It was created and implemented on behalf of the Oman Ministry of Oil & Gas, & Oman's 20 Oil & Gas Operators by Business Gateways International LLC (businessgateways), an Omani company providing national-level IT solutions, to solve various procurement challenges faced by the Oil & Gas Industry in Oman.
The 20 Oil & Gas Operators who currently utilize the mandated JSRS platform to identify suitable certified suppliers are Petroleum Development Oman (PDO), BP British Petroleum (BP), DNO, CCED, Occidental of Oman (OXY), Oman LNG, Daleel Petroleum, ORPIC, Oman Oil Exploration and Production (OOCEP), MOL Group, MEDCO Energi, Masirah Oil Ltd, Hydrocarbon Finder, Qarat Al Milh Petroleum, Oman Lasso E&P, Petrogas, Petrotel, ARA Petroleum, Oman Gas Company (OGC) and Tethys Oil.
Today the success of the JSRS has seen its expansion from the Oil & Gas Industry to Other Industries as well resulted in the formation of the JSRS Buyers Community.
The JSRS with its current & dynamically updated supplier data and monitoring mechanism enables all the 20 O&G Operators and Other Industry Buyers to identify & select suppliers based on various eligibility criteria and to propagate tenders to them.
Operators and Buyers plan to use many other high-end features like e-Procurement, e-Tendering & Contracts Management System to manage the publishing of tenders and track awards of contracts all the way to the last sub-contractor who executes his scope of work.
In 2017, the Embassy of India (Muscat) endorsed JSRS and invited Indian companies, trade bodies and associations to become JSRS Certified and connect with Oman's business opportunities.
Source:Business Gateways International LLC
Photo courtesy:ANI news