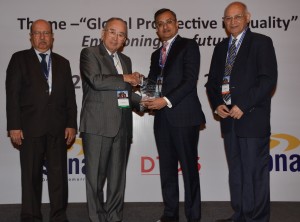 New Delhi, December 01, 2016: Marking a significant achievement, and testimony to its persistent endeavors towards establishing an innovation-led organization, Mr Rohit Saboo, President and CEO of National Engineering Industries Ltd (NEIL), has been conferred with the prestigious Ashoka Award by Indian Society for Quality (ISQ) for 2016. Mr. Saboo received the coveted award for leading NEIL to win prestigious Deming Grand Prize and JIPM Award for TPM. With this award ISQ has been recognising the individuals who have made significant contribution to the quality movement in India.
Mr Rohit Saboo, President and CEO, NEIL, "I am extremely privileged to join the distinguished list of personalities that have been conferred with the Ashoka award. The award signifies our commitment to manufacturing excellence and the benchmarks we have set for ourselves over the last six decades. It is our constant endeavour to achieve best in class quality and this has been achievable with the support of our customers, employees, vendors and all other stakeholders.  Our journey over the years has been exciting and this award is a tremendous inspiration for us to move on with the winning spirit and achieve new heights."
Ashoka Award is given to management professionals who have led the organizations and guided others making exceptional contribution through the practice and promotion of Quality Management of sustainable results, with humility, industry and passion.  In its previous years, the award has been facilitated to Mr. Ashok Sharma-President & Chief executive, Mahindra & Mahindra-Agri business; Mr. Anand Sen, President-Tata Steel; Dr. K Kumar, Director-Maruti Centre for Excellence, Mr. AnjaniKumar Choudhary, President-Mahindra & Mahindra-Farm Sector; Dr. N Ravichandran, President-Lucas TVS.