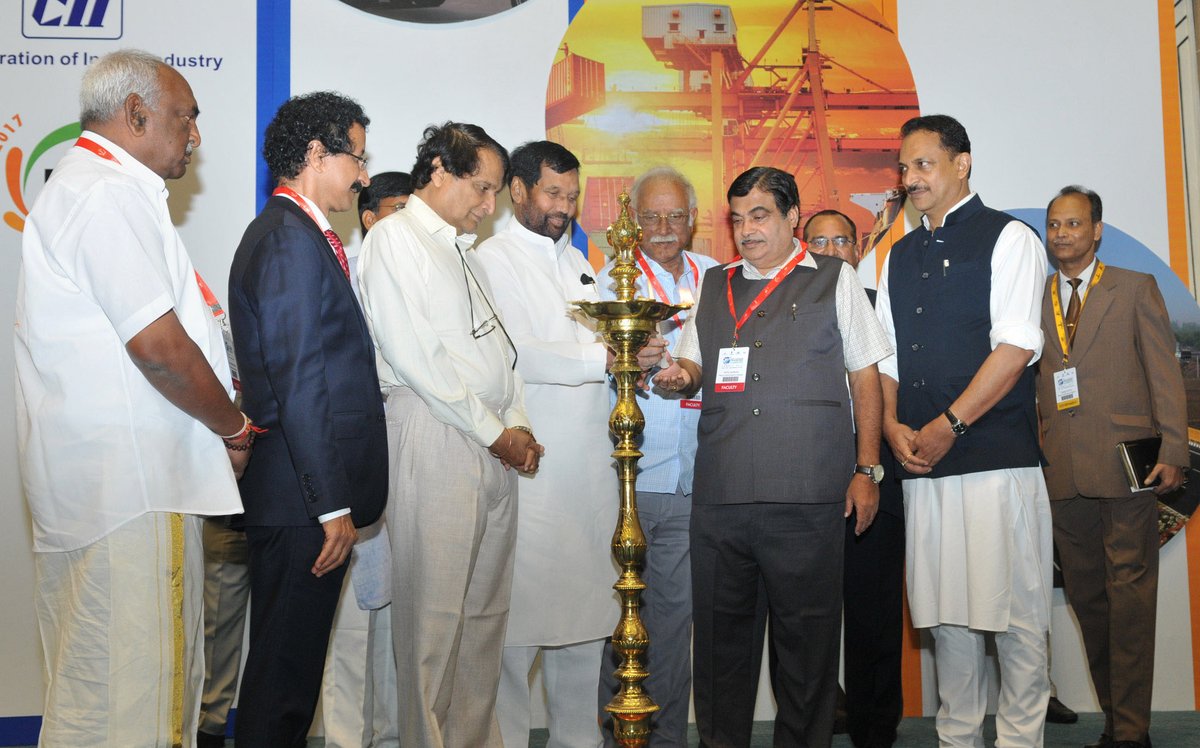 Thirty-four MoUs amounting to about Rs 2 lakh crores were signed in the three day India Integrated Transport and Logistics Summit that was concluded in New Delhi today. These MoUs were in the areas of port connectivity, Integrated Check Posts (ICP) in the states of Bihar, Uttarakhand, Uttar Pradesh, West Bengal, Manipur, access to land port in Tripura, Assam and Mizoram, development of Logistics Parks in Telengana, Andhra Pradesh, Karnataka, Madhya Pradesh, Assam, Gujarat, Mizoram, development and furthering of multi modal logistics parks in Mumbai and Bengaluru and Haryana,  exploring investment opportunities in logistics sector, dredging of inland waterways, implementation of 79 port connectivity projects under Sagarmala, development of port roads to Chennai and Vishakhapatnam ports, and connectivity to airport in Navi Mumbai, among others. Some of these MoUs are between Government agencies while others are between Government to Business and Business to Business.
The Summit was attended by around 3000 delegates from India and abroad, which included central and state government organizations, international organizations like World Bank and ADB, delegates, global transport and supply chain experts and representatives of private companies. The sessions focused on six major themes that included Multi Modal Logistics Parks, New developments in Urban Transportation, Freight Corridors for Economic Development, Supply Chain Transformation- Storage Innovations, GST and Role of Digitization for Decongestion and Standards and Skills for Logistics. Fifty speakers from across the globe shared their views, expertise and experience about developing the logistics and integrated multi modal transport sector in India.
Speaking at the concluding session of the summit, the Minister of Road Transport & Highways and Shipping Shri Nitin Gadkari said that there is an urgent need to bring down logistics cost in the country to globally comparable rates if we hope to achieve double digit growth figures and ensure the welfare of the weakest sections of society. Shri Gadkari said that the summit is a very welcome, first step towards realizing this objective. The participation of both Government and private sector has been very encouraging, he said, and even states from the North East have come forward to sign MoUs. He said the suggestions of all stakeholders will be considered and a road map will be drawn for progress along these lines.
The Rajasthan Chief Minister Vasundhara Raje spoke about the ongoing developments in the transport and logistics sector in her state and welcomed the steps being taken to develop multi modal integrated transport in the country. She said Rajasthan has the highest length of National Highways in the country. Six economic corridors pass through the state. The state has close proximity to the prosperous northern and western regions of the country. Air infrastructure in the state is also good with Jaipur, Jodhpur and Udaipur having full-fledged airports. She said multi modal integrated transport and logistics would benefit Rajasthan to a great extent.
Haryana Chief Minister Shri Manohar Lal Khattar also welcomed the organization of the summit and said Haryana is fully capable and prepared to participate in the upcoming transport and logistics revolution in the country. He said the state has a lot of potential to contribute to the growth of warehousing and supply chain logistics. He also informed that the state is working in a big way to enhance and modernize its transport and warehousing network.
The Ministry also gave away awards to the winners of a contest for designing solar toll plazas.