Sets a new benchmark by promising the lowest cost of ownership in the Indian trucking industry Synopsis
The new set of service offerings would give the Mahindra BLAZO a veritable edge over competition like
Increased oil change intervals, Reduced Oil prices, 6 years / 6 Lakhs kms warranty
Guarantees service support in many ways – 48 hours uptime guarantee, 2 hours reach guarantee on Mumbai – Delhi Corridor, 36 hours turnaround guarantee at its dealerships
Guarantees availability of all critical maintenance parts from its parts plazas and dealerships or offers them for free & all guarantees come with a recourse for the customers, in case the company does not deliver
With their total network strength stands at 92 nos. 3S dealerships, 129 authorized service centers and 2900 roadside assistance points; in addition to a spares network of 2069 retail outlets, with 24 exclusive strategically located Parts Plazas
Mahindra Truck & Bus Division (MTBD), a part of the USD 19 billion Mahindra Group, introduced a set of industry first service offerings for the truck owners. The company has set a new benchmark by promising the lowest cost of ownership in the trucking industry.
These first of its kind package for Mahindra BLAZO customers includes the following benefits:
Increased oil change intervals that are class leading or comparable to best-in-class, leading to significant saving of 9% per annum for transporters
Reduced lubricant oil prices that are lowest in the industry, thereby making Mahindra trucks most affordable and ensuring an overall 18% savings per annum for transporters
A class-leading 6 years/ 6 Lakhs KMS warranty on Mahindra BLAZO.
The above package of benefits is aimed at further increasing the customer confidence in Mahindra BLAZO. This provides peace-of-mind for vehicle operation up to the end of 6th year, thereby setting a new standard in the Indian trucking industry
All these industry first customer benefits provide truck owners with the ultimate peace of mind when it comes to actual cost of ownership, which includes the cost of running the transport business. It is also set to make Mahindra BLAZO one of the best value-for-money brands and a brand of choice in the trucking industry.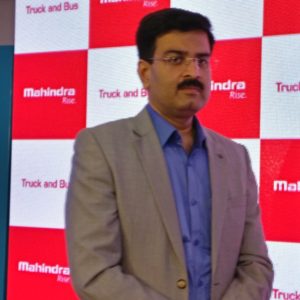 Vinod Sahay, Chief Executive Officer – Mahindra Truck and Bus Division, Speaking on the occasion, said, "At Mahindra Truck and Bus, customer centricity and continuous product innovation have been at the core of our business and we have made long strides in pioneering, innovative and disruptive guarantees. Today, as we roll out a never-before package of customer benefits, we are confident of significantly bringing down the cost of ownership and operation thereby ensuring that our trucks are far more affordable. For the transporter, this directly translates into better earnings due to savings of up to 20% in servicing cost per annum for every Mahindra BLAZO truck as well as a promise of hassle free ownership experience. We are confident that transporters will notice our industry first game-changing benefits and switch to Mahindra BLAZO as their preferred brand of choice, to get the best value for money."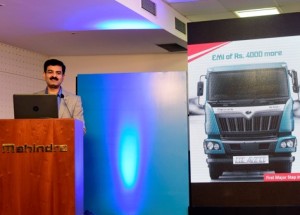 Given the rising oil prices and stagnant freight rates, these offerings could be the game changer in the Indian Road Transport, something Mahindra has attempted through its focus on customer centricity and alternative thinking. Since its inception, Mahindra Truck and Bus Division, has been taking rapid strides in its segment, with a challenger mindset. Today MTBD is a formidable contender, having scaled No. 3 position in certain segments and an overall No. 4 position in the Indian HCV industry. With the launch of its Intermediate Commercial Vehicles (ICVs) in the upcoming financial it will further cement itself as a full range commercial vehicle player.
The success of the BLAZO series of trucks, which was launched at the 2016 Auto Expo, has been phenomenal. Today there are more than 10,000 BLAZOs on the Indian roads, a number that is growing by the day. This success can be attributed to the many industry first initiatives such as mileage guarantee, various guarantees for prompt service and guaranteed availability of parts from parts plazas and dealerships. In addition, its proposition of guaranteed customer experience – 'Har Cheez Guarantee ke Saath', has set a new benchmark for superior products and aftersales support.
.