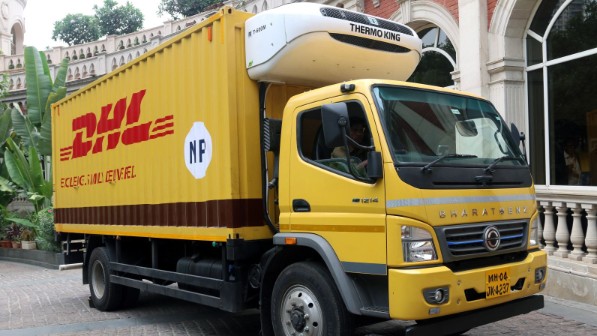 DHL SmarTrucking will provide logistics support to Lactalis companies, Thirumala Milk Products and Anik Dairy
Lactalis India, the Indian subsidiary of Lactalis Group, a leader in the global dairy industry, today announced that it has signed on DHL SmarTrucking as a logistics partner for two of its companies
DHL SmarTrucking will provide customized cold chain transportation solutions for Thirumala Milk Products Private Limited, a leading dairy company in south India, and Anik Dairy, a trusted source for dairy products in north India. Employing smart technology to ensure temperature accuracy and reliability in the delivery of temperature-sensitive products, DHL SmarTrucking aims to bring business efficiencies to Indian dairy companies by leveraging Internet of Things (IoT) technology and data-driven insights for shorter transit times and a faster turnaround on vehicle availability.
Arun Selva Kumar, Head of Supply Chain, Lactalis India, said, "Anik Dairy and Thirumala Milk Products are two of India's trusted brands across north India and south India respectively. For Lactalis India, it is paramount that we preserve consumer faith in these brands and continue Lactalis' legacy of over 80 years, of bringing the best quality dairy products to India and the world. DHL SmarTrucking is an able companion in our endeavor to bring wholesome and high-quality milk products to tables across the country."
According to the Indian Economic Survey 2018-19, India is the world's largest producer of milk. The country is seeing a rise in demand for value-added dairy products, with growth for the Indian dairy sector estimated at 14-15 percent CAGR between 2018 and 2021.
Vikash Mohan, Chief Executive Officer, DHL SmarTrucking India, said, "With a wide portfolio of customers in the perishables business, DHL SmarTrucking is familiar with Thirumala Milk Products' and Anik Dairy's need for reliable and fast temperature-controlled logistics with 100% regulatory compliance and end-to-end visibility. As a champion of TechLog, logistics made smarter through the use of new and emerging technologies, we are glad to tap our innovative solutions to help Thirumala Milk Products and Anik Dairy bring value to their customers in India."
Incorporated under Deutsche Post DHL (DPDHL) Group's Corporate Incubations division, DHL SmarTrucking also provides tailored trucking solutions for dry logistics. The company is present in India with more than 1,800 drivers, 745 trucks and 13 SmartHubs across the country.