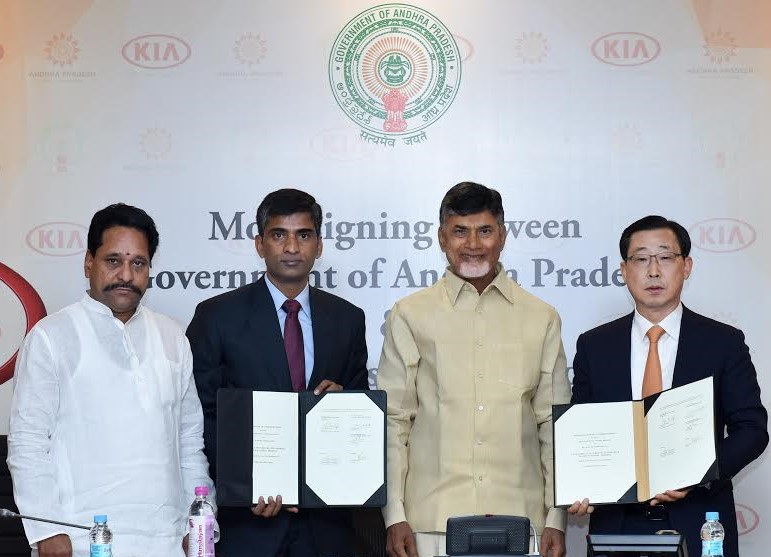 South Korea's Kia Motors Corp is close to finalizing Andhra Pradesh as the site for its first factory in the country, as it speeds up efforts to start production in the fast-growing market, a source familiar with the matter said.
Reports of Kia looking to pick a site have been doing the rounds for a while, but an official with the Andhra Pradesh administration had told Reuters last year that the state was the frontrunner given its proximity to Tamil Nadu – home to plants of Kia's affiliate, Hyundai Motor Co.
The Korean firms, jointly the world's No.5 car maker, are chasing new business after missing targets over the past two years. And now, there are worries sales to the United States, one of their biggest markets, could be affected by protectionist trade policies under President Donald Trump.
India, however, remains a bright spot, with Hyundai – the country's No.2 automaker by sales – reporting growth there. Kia is hoping to leverage its affiliate's supply chain network built over nearly two decades to gain a foothold in the market that is tipped to become the world's third largest by 2020.
This month, Kia is likely to choose a site in the district of Ananthapur, Andhra Pradesh, for its factory, the source said, adding the state had offered about 600 acres (242.81 hectares) of land to the automaker.
A second source also said that Kia was likely to pick Andhra Pradesh as its factory site. The sources did not want to be named as they were not authorized to talk to media.
Kia intends to produce small sedans and small sport utility vehicles at the plant from July 2019, although the plan is subject to change, a third person said.
The CEO of Kia Motors, Park Han-woo, said the automaker was in the process of picking a site for an Indian factory, without giving any details on location.
"Preparations are going well. We are ready to break ground on the factory anytime," he told Reuters on the sidelines of an industry event in Seoul on Tuesday.
Maharashtra and Gujarat have also been wooing Kia for the factory, Reuters reported last year.
Kia is likely to compete with its affiliate Hyundai, Tata Motors, Honda Motor Co and Maruti Suzuki India Ltd in India, a market skewed towards cars costing less than $7,000.
Hyundai is one of a handful of successful foreign car makers in India. Japan's Toyota Motor Corp is trying to expand in the country and this week announced a partnership with Suzuki Motor Corp, which dominates the Indian market via its Maruti Suzuki venture.
"Kia cannot afford to miss the India market," said Ko Tae-bong, an auto analyst at Hi Investment & Securities.