JNPT and CONCOR announce weekly scheduled export train from ICD Ludhiana to JN Port
– Exporters in Ludhiana and its catchment area will benefit with the start of new service-
Jawaharlal Nehru Port Trust (JNPT), India's premier container port along with CONCOR at a 'Trade Meet' today, announced the commencement of a weekly scheduled export train from ICD Ludhiana to JN Port. This service every Saturday to ensure faster evacuation of export containers destined for JNPT, will also enhance the trade requirement of Ludhiana with the 'Financial capital of India', Mumbai.
The Ludhiana ICD caters to a vast interior market that includes the states of Himachal Pradesh, Haryana, and Rajasthan. With an extensive network of more than 80 ICDs nationwide, CONCOR commands the bulk of Indian containerized rail transportation.
A panel discussion moderated by Mr. Niteen M. Borwankar, Chief Manager (Traffic), JNPT with Mr. Avinash Kochar, AGM, Commercial, APM Terminals, Mr. Hardik Vaidya, Head Commercial, DP World, Mr. Gabriek Juneja, Terminal Managre, CONCOR, Mr. Arvind Kumar, Assistant Commissioner, Customs – Ludhiana and Mr. Saurabh Sharma, Regional Manager, PSA Terminal on the panel spoke on "JNPT – THE PORT OF CHOICE" was held at the Trade Meet.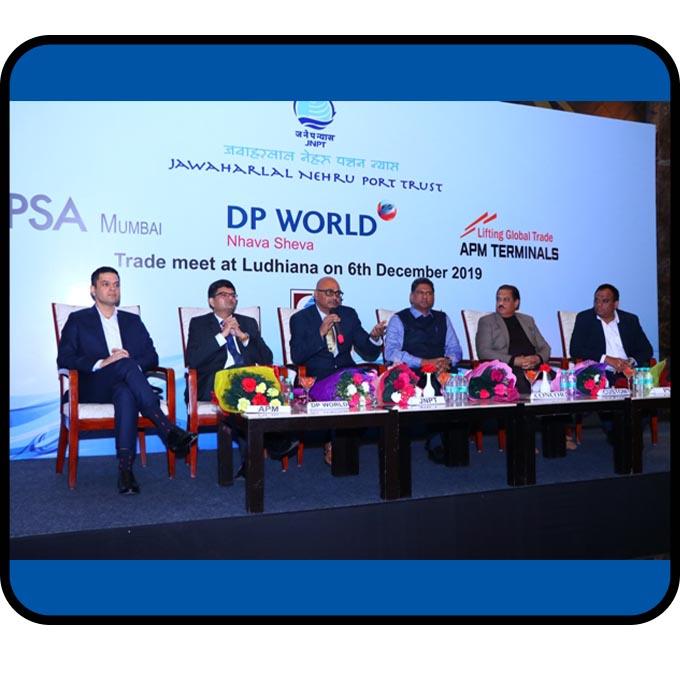 Commenting on the development, Shri Sanjay Sethi, IAS, Chairman, JNPT said, "Today marks the start of a new chapter enhancing trade connectivity between Ludhiana and Maharashtra. Jawaharlal Nehru Port Trust (JNPT) handling the majority of India's container freight and connectivity between the two cities is extremely significant for the emerging market economy. We had committed to look into this trade request positively, when we met earlier this year in August and this will definitely open an opportunity for enhancing cargo generation between Ludhiana and JNPort through rail."
On average, the port currently sends and receives nearly 20 trains daily. CONCOR has also agreed to accommodate export containers of other Private train operators on their trains for facilitating timely connection of exports to container vessels at JN Port.
All shipping lines can now take advantage of this new service as this will widely benefit exporters in Ludhiana and its catchment area. This will open an opportunity for JNPT to further accelerate its rail movement that has seen a steady increase in the past couple of months.
The 'Trade meet' was well attended by the trade fraternity and it was also informed that the event in Ludhiana evoked highest response.