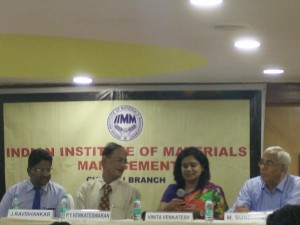 Indian Institute of Materials Management (IIMM), Chennai Chapter, celebrated its Materials Management Day, inviting Ms. Vinita Venkatesh, Director – Business Development, Krishnapatnam Port Container Terminal (KPCT), as the Chief Guest of the evening.
Mr. P Y Venkateswaran, Branch Chairman of IIMM delivered his welcome address.
During her presentation, Ms. Venkatesh elaborated the current activities of the port and also about the future expansion – including the new port where their associate engineering company Navayuga  has been awarded the development of the Machilipatnam Port on BOOT (Build, Operate, Own and Transfer) basis for a period of 30 years.  One of India's largest and fastest growing seaports, Krishnapatnam Port has emerged as a world-class port with outstanding services and facilities. It is fast becoming a port of choice for all international cargo originating from and destined to the Southern and Central India.
Krishnapatnam Port Company has won the mandate from the Govt. of Andhra Pradesh to develop the existing minor port into a modern, deep water & high productivity port, on BOST basis for 50 years. The port is being built in three phases and currently the second phase of development is underway. Port has numerous strengths like its area, location, weather and new generation world class port facilities; it will soon be poised to become one of the biggest ports in the world and the largest port in India.
At the end of the program, the Corporate Excellence Awards and the Young SCM Award and for the SCM Quiz Awards were presented to the respective awardees from the Corporate, which was part of the celebrations.