Hon'ble Union Minister for Road Transport & Highways, Shipping and Water
Resources, River Development Ganga Rejuvenation, Shri Nitin Gadkari,
Commissioned the Container Gantry Cranes at Berth No.8 (DBGT),
inaugurated the Information Centre and Truck parking Terminal at V.O.
Chidambaranar Port at 15 : 30 hrs on 26.02.2018 at Truck Parking Terminal in
the presence of presence of Thiru Pon. Radhakrishnan, Hon'ble Union Minister
of State for Finance and Shipping, Thiru C.Kadambur Raju, Hon'ble Minister for
Information and Publicity, Government of Tamilnadu, Thiru J. Jeyasingh
Thiyagaraj Natterjee, Hon'ble Member of Parliament, Thoothukudi
Constituency, Smt. P. Geetha Jeevan, Member of Legislative Assembly,
Thoothukkudi Constituency.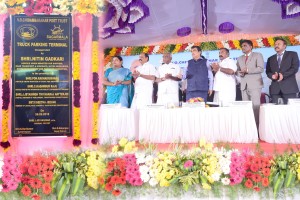 The V.O.Chidambaranar Port 2 nd Container Terminal Dakshin Bharat Gateway
Terminal Private Limited features 3 Rail Mounted Quay Cranes, 9 Rubber Tyre
Gantry Cranes etc. The project has been commissioned at an investment of
312.23 Crores and the PPP operator, M/s. Dakshin Bharat Gateway Terminal
would offer a revenue share of 55.19 % to the Port. The overall length of the
berth is 345 metres and the maximum draft is 13 metres. The Terminal has the
capacity to handled 6 lakhs TEUs per annum.
The Truck Parking Terminal in V.O.Chidambaranar Port has been constructed
at an investment of Rs.23.69 crores. The Truck Parking Terminal has been
established at an area of 52,609 Sq.m. It is located at the proximity of all the
Container Freight Stations in Tuticorin and is just 8 Kilometres from the Port.
The project is envisaged as a 'Ease of Doing Business Initiative by Government
of India for reducing the cost and dwell time of cargo clearance in Ports. The
Truck Parking Terminal will serve as a Document Processing Centre for export
cargo and clearing Centre for Direct Delivery consignments with the presence
of Customs officials and the Terminal Operators as a one stop solution.
The Truck Parking Terminal features parking slots for 200 vehicle at a time.
The Truck Parking Terminal also provides shelter to the Truck drivers and
cleaners with dormitory at nominal cost, canteen facilities etc.
The state of the Art 'Port Information Centre' has been established at a total
cost of 1.89 crores with a built up area of 445 Sq.m
The Information Centre facility to bring out the soft values of seaports and to
regenerate the connection between Ports and citizens of the country houses
LED panels depicting the evolution of and growth of the Port over the years.
The Touch screen kiosk systems would provide in depth information on
seaports, shipping, Indian ports, EXIM trade, Photo gallery and video gallery.
The Port model features the miniature of Port installations in the Harbour
estate. The Information centre also facilitates a theatre room with seating
capacity for 80 persons to enjoy the visual display of Port activities.
Hon'ble Union Minister for Road Transport & Highways, Shipping and Water
Resources, River Development & Ganga Rejuvenation, Shri Nitin Gadkari,
highlighted the importance of capacity augmentation of Ports to meet the needs
of the flourishing EXIM Trade. He reaffirmed that the V.O. Chidambaranar Port
will find a place the league of Transhipment Ports of the country on completion
of the Deepening of the Harbour Basin to a depth of 16.50 meters, widening of
entrance channel and strengthening of berths 1 to 6.
Hon'ble Union Minister of State for Finance and Shipping, Shri Pon
Radhakrishnan, while addressing the gathering mentioned that VOC Port is a
growing Port and has always shown promise in attaining an inclusive growth.
He lauded the efforts of VOC Port for undertaking the lead in establishing the
Port information centre which will bring out the esthetic, intellectual and social
aspects of Port Community life.
Shri I.Jeyakumar IRTS, Chairman/VOCPT welcomed the gathering and
Shri S. Nararajan, Deputy Chairman / VOCPT proposed the vote of thanks