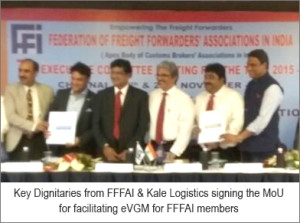 Kale's eVGM platform will be accessible to FFFAI members through FFFAI website for filing eVGM to shipping lines. This platform is compliant in conformance with the latest SOLAS Convention that requires Shippers to file Verified Gross Mass (VGM) of the container electronically, before it gets cleared for loading on the Shipping line.
Kale Logistics Solutions and Federation of Freight Forwarders' Associations in India (FFFAI) have signed a MoU, whereby Kale's eVGM platform will be made available to its members for eVGM filing. This will help FFFAI members to stay compliant with electronic-VGM as per the SOLAS (Safety of Life at Sea) convention.
The International Maritime Organization (IMO) has amended the SOLAS Convention to require, as a condition for loading a packed container onto a ship for export, that the container has a verified weight. The shipper or its authorized representative is responsible for the verification of the packed container's weight. As per the IMO, the new regulation is meant to safeguard the interest of the vessel, crew and cargo by getting exact weight of the Cargo filled container, so that the shipping line can plan the vessel capacity. If the weight of the Container is found to be higher than the prescribed weight, then the Line will have the discretion to offload such a container.
The e-VGM Platform from Kale allows an Exporter/Shipper, CHA/CB, CFS/ICD, Shipping Lines/Liner Agent record, declare and transmit the VGM electronically. It is not just compliant with Industry regulations but has many added features like- a dedicated secure DG Shipping approved website, digital signature enabled, EDI Connectivity to Shipping Lines, Weighbridge software integration for tamper proof transmission of Container weight, Automated Alerts, Dashboard view & Mobile Application. Additionally, Kale offers a Weighbridge Software Solution which facilitates Import and Export Weighment modules, bill generation module and transfers weight information from the software to online portal in a tamper proof manner.
Speaking on the occasion, Mr. Vineet Malhotra, Director – Kale Logistics Solutions stated, "Kale's eVGM platform is compliant with all regulatory requirements. This service will be able to help Custom Brokers and Shippers across India become VGM compliant and also move onto a digitally connected business ecosystem to experience seamless container movement. Kale's eVGM platform already has 4500+ subscribers filing eVGM successfully."
"We wanted to help our FFFAI members to get access to a proven system for filing VGM electronically and we will be providing a direct access from FFFAI website to this system to enable our members to fulfill all their trade needs easily. Kale Logistics is well known in the industry and they have been working with several of our members in offering "e" services at Indian Ports and Airports. Kale's e VGM platform is a robust, full feature web based platform which will enable our members to file e VGM seamlessly with Shipping Lines." said Mr. Samir J Shah, Chairman – FFFAI
Kale Logistics as the Technology Provider has the distinction of delivering India's first Container Digital Exchange- CODEX in association with the V.O. Chidamabaranar (Tuticorin) Port Trust and Tuticorin CFS association. CODEX is designed to automate the container movement at Tuticorin Port and reduce the container dwell times considerably. It is an EDI based electronic platform through which communication, information exchange, connectivity and electronic processing of key business transactions/operations can be facilitated between all container stake-holders at the Port and its related logistics value chain. It also has a CODEX Mobile APP which is an extension of CODEX. This is first of its kind initiative at an Indian Port which promises to reduce the current documentation process from 2 hours to almost 1/4th its time and the Container Mobile App as an extension of CODEX will allow all stakeholders to Track the Container on real-time basis.
Kale's Community Platform initiatives have been listed in 'Top 10 Innovations in Indian Logistics Industry' by KPMG and have been published as a part of the Supply Chain Management curriculum of KELLOGG Business School. Kale Logistics is closely associated with leading Global Trade Bodies and is represented on the board of TIACA.