Emirates SkyCargo, the freight division of Emirates, was recently named 'Best Air Cargo Carrier- Middle East' at the 2017 Asian Freight, Logistics and Supply Chain (AFLAS) Awards held in Singapore.
This is the third consecutive time that Emirates SkyCargo has won this prestigious recognition, it said.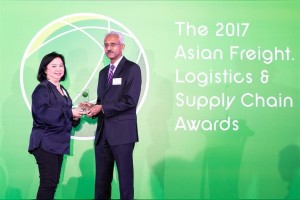 Organised by Asia Cargo News, the AFLAS awards are an important recognition for leading service providers in the global cargo industry.
As the finalists and the winners are determined by the over 15,000 readers of the publication, Emirates SkyCargo's win is a true reflection of customer sentiment in the air cargo industry.
Earlier in June 2017, Emirates SkyCargo won dual awards at the 'Quality Award Italy 2016', organised by the IATA Airfreight Forwarders Association Italy (ANAMA) which recognises the best performing organisations in the air cargo industry in Italy.
The cargo carrier was named 'Best Carrier- All Services' and 'Best Carrier- Flown as Booked' at the awards ceremony held in Milan which brought together over 400 senior members from the air cargo and related industries.
Emirates SkyCargo's emphasis on quality and customer focus were also recognised across other parts of its extensive global network.
The air cargo carrier was awarded 'Best Airline – Flown as Booked' by the Air Cargo Agents Association of Pakistan (ACAAP).
In addition Emirates SkyCargo was also named the 'Best International Cargo Airline of the Year 2016-17' by Bangalore International Airport Limited (BIAL), India for the second year running.
Emirates SkyCargo is an important partner to businesses around the world helping transport goods across a network of over 155 global destinations with its state of the art fleet of 259 wide bodied aircraft including 14 freighters- 13 Boeing 777-Fs and one B747-400ERF.
With specialised transportation solutions for business verticals such as pharmaceuticals, perishables and automotive, Emirates SkyCargo is an important facilitator of trade and commerce globally, it stated.
Courtesy: TradeArabia News Service