The first set of electric vehicles manufactured by Hinduja Group flagship Ashok Leyland would be rolled out by January 2019, a top official said Tuesday.
Company Managing Director Vinod K Dasari said the electric vehicle plant was ready in Chennai and the first batch of vehicles would run in Gujarat by January 2019.
"You will see the first set of electric vehicles actually running in Gujarat. It will be during 'Vibrant Gujarat' (global summit) in January", he said.
The Gujarat government is scheduled to hold the ninth edition of the Vibrant Gujarat Global Summit in January 2019.
On plans to set up manufacturing facility in Andhra Pradesh, he said the plant was almost complete and the company was waiting for the government to lay the roads.
"The plant can assemble any type of buses, including electric vehicles", he said.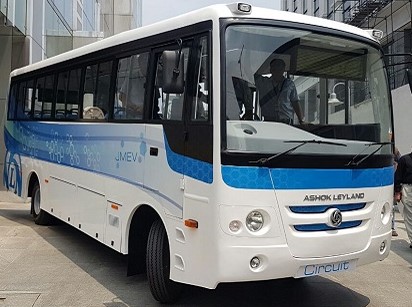 Declaring the financial performance for the quarter and half year ending September 30, 2018, Dasari said it was a record performance for Ashok Leyland in terms of posting sales, EBITDA and net profit".
"It is not a one off thing. Margins on EBITDA for others (competitors) had dropped. But our margins on EBITDA had gone up compared to same period of last year", he said.
He said the company has invested heavily in the Light Commercial vehicle segment to produce the next generation of LCVs, scheduled to hit the roads by 2020.
"In Defense (segment) we have won every single order we competed in. We won 31 tenders in the last three years", he said.
In terms of the second quarter performance, company CFO Gopal Mahadevan said Ashok Leyland would keep pace with the industry as far as growth was concerned.
"For our market share to grow and by how much during the next quarters, we have to wait and watch. There may be some sort of a revival from the fourth quarter", he said.
To a query, he said, challenges would be the high steel prices and input prices that were going up. "Ashok Leyland has been increasing prices. At the moment, we can actually see a full year growth of 12-15 per cent over last year, which is very healthy growth", he said.