The service center is part of the company's nearly €45 million investment committed to India
Goa Service Centre supports the growth of Goa as an industrial hub, saving up to 24 hours on transit time for customers
Goa, 01st March 2018: Affirming its commitment to 'ease of trade' in India, DHL Express, the world's leading international express services provider, today inaugurated its first service center in Goa. Located in Verna, DHL Express' 47th service point in India will cater to the substantial growth of imports and exports in the State.
The new 3088 sq. ft. facility, located in close proximity to the Goa International Airport, will benefit customers in the industrial hubs of Verna, Vasco, Madgaon, Ponda, Panjim, Mapusa, through the timely connection of shipments.
Goa has emerged as a strong manufacturing base for the pharmaceutical and engineering sector. It is a preferred choice for overseas customers while sourcing from India. It is also an emerging destination for knowledge-based industries such as biotechnology, IT, telecommunications and electronics.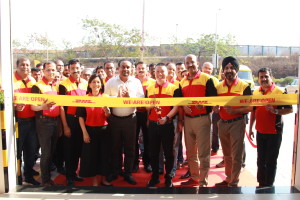 R.S. Subramanian – Country Manager of DHL Express India along with Ken Lee – CEO of DHL Express Asia Pacific

Commenting on this investment, Ken Lee, CEO of DHL Express Asia Pacific, said, "The DHL Global Trade Barometer predicts the strongest prospect for India across the world's seven largest economies. Given this sustained volume growth in international trade, boost in cross border e-commerce and the recent policy reforms by the Government towards providing an impetus to the logistics sector, we are extremely optimistic about the developments in India. This is part of our nearly €45 million investment committed for India, to support the high growth within the country."
The Service Center in Goa will benefit customers through market leading cut-off times for shipment pick-ups thereby saving almost a day on overall transit time for exporters and importers.
Commenting on the launch of the facility, Mr. R.S. Subramanian, Country Manager, DHL Express India said, "Our strategic investment in Goa will give us complete control over the movement of shipments thereby resulting in high quality time definite services to our customers. The continuous volume growth is a testimony of the market demand and growing customer confidence in our services."
As part of its investment plans in India, DHL Express will be further undertaking the expansion of new upcountry developments, the upgrading and expansion of its infrastructure and bolstering its retail presence.
DHL Express has maintained its leadership position in India since 1979, providing customers with access to 598 cities and over 33,000 locations within the country. The company has over 60,000 customers in India, including importers, exporters, manufacturers, entrepreneurs and small and medium sized businesses. With a robust nationwide network of over 400 vehicles on road, 19 weekly inter-continental flights, 67 daily international and 80 domestic commercial flights, DHL Express customers in India have access to an international network of over 220 countries and territories.