Complete Auto Sales Analysis for Q1 FY16-17
Interestingly, showing strong signs of recovery in the domestic market, all the segments, except passenger vehicles, reported a double-digit growth
Amidst the hullabaloo surrounding the Indian automobile industry in the last few months, the domestic auto sales in the first quarter (April-June) of the fiscal year 2016-17, has emerged out unscathed from any adverse impact, despite introduction of new policy and taxation.
According to the sales data released by the apex body representing the automobile manufacturers, the overall domestic auto sales grew by 13.42 percent to 5,546,343 units in the first quarter of the current fiscal year, compared to 4,890,099 units sold in the same quarter the previous year.
Interestingly, showing strong signs of recovery in the domestic market, all the segments, except passenger vehicles, reported a double-digit growth. Although passenger vehicle segment did not grow by double digit, it stayed in green.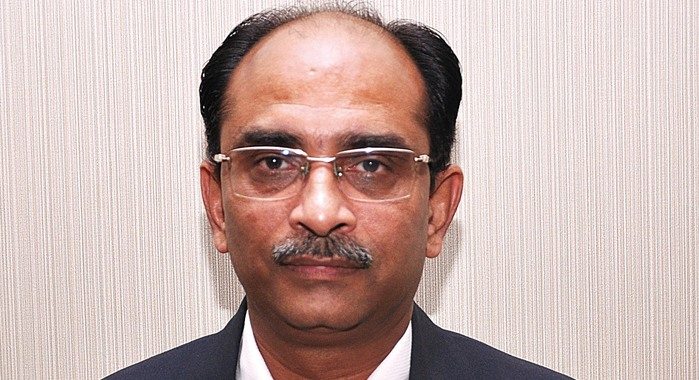 Vishnu Mathur
However, dropping exports forced major cut in production in some segments. "The capacity utlisation has been very less ranging on an average about 65 percent," Vishnu Mathur, Director General, SIAM told ETAuto.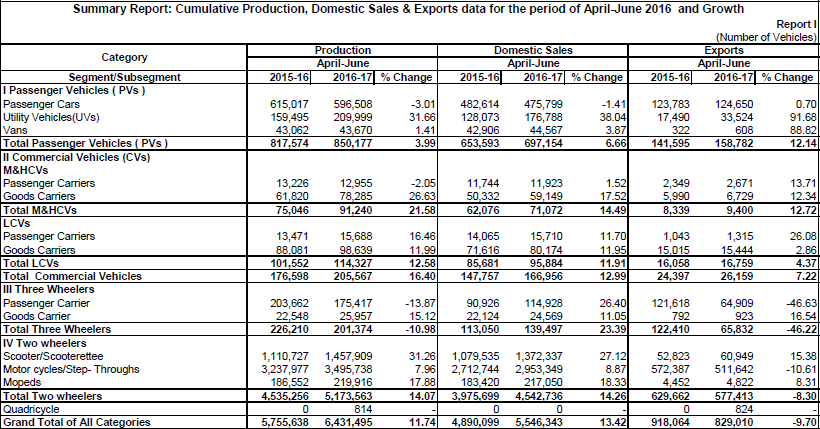 Source:SIAM
Passenger vehicle domestic sales have grown by 6.6 percent at 697,154 units sold in the April-June quarter 2016, compared to 653,593 units sold in the similar time period a year ago. April-June quarter saw about two dozen new launches, especially in the compact UV segment, which propelled the growth in overall PV sales in the country.
"I think the line between a Sedan, a hatchback and an SUV has blurred in many cases, so the traditional buyer of cars (which mostly meant small cars) is now attracted more towards tall-boy kind of compact SUVs which also have similar cost range. Thus, we see rise in UV sales while cars sales are falling," explained Mathur.

In this quarter the domestic passenger car sales slipped by 3.01 percent for the second consecutive month. The UV sales, on the other hand, grew by 38.04 percent in the last quarter at 176,788 units.
"Car sales have been on a decline as buyers are moving away from sedans to utility vehicles (especially compact UVs) in urban areas owing to new launches, whereas entry-level cars have been impacted by weak demand in rural areas due to a poor monsoons," said Rakesh Batra, National Leader-Automotive EY
Batra, and also SIAM expects passenger vehicle sales to witness 6-9 percent growth in FY17 on the back of new launches, implementation of 7th pay commission, low fuel prices, stable (though high) rate of interest, expectation of good monsoon and a likely scrappage policy.
According to automotive industry expert Abdul Majeed, PV manufactures who have slews of new launches to address changing customers preference (i.e. compact SUV, cross and hatchback) will grow more compared to others and OEM who have no new launches will continue to face challenge's in defending their market share.
On the back of new launches, SIAM expects the PV sales to be better than the previous p 0rojection for the financial year 2016-17.
The Society of Indian Automobile Manufacturers had in April revised downward the growth forecast for passenger vehicle sales at 6-8 percent for 2016-17 citing burden of high taxation and unfavourable environment around diesel vehicles. In March, it had already lowered the forecast to 11 percent from 12 percent stated earlier.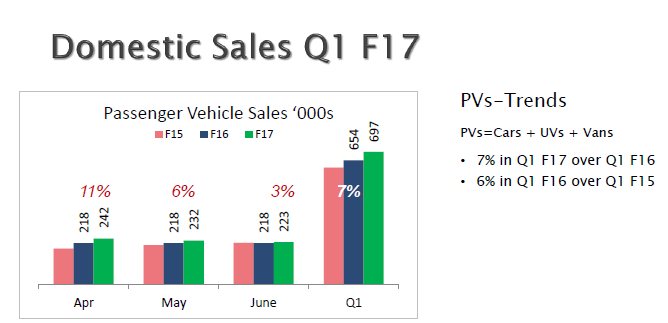 Source:SIAM
It was feared that additional one percent infrastructure cess to be levied on Petrol, CNG, LPG cars while 2.5% infrastructure cess to be levied on diesel cars below certain engine capacity and 4% on bigger diesel cars and SUV would bring down demand. While an additional 1% extra luxury cess to be put on cars priced above Rs 10 lakh was also seen as an adversary.
The Industry went into a tizzy after diesel passenger vehicles having 2000 cc or above engines were banned in NCR. This did not seems to have much impact on the over all sales. Toyota Innova Crysta despite the ban emerged as India's one of the top selling UVs. However, the increasing price of diesel and overall negative sentiment did bring down the sales of diesel PV.
The other sweet spot for industry was M&HCV segment, which saw strong growth of 14.49 percent mainly propelled by replacement demand, opening up of the infrastructure projects and beginning of the implementation of BS-IV norms.
"However, M&HCV growth has begun to taper due to reduced agricultural output, increase in diesel prices, decreasing truck rentals and a high base effect," Batra said.
Light commercial vehicles (LCVs) witnessed an 11.9 percent growth on a low base, driven by replacement demand. "This (LCV) segment is likely to witness growth, with demand from rural India driven by an uptick in monsoon, pre-buying ahead of BS IV implementation, pick-up in consumption-driven sectors and some replacement-led demand. Overall, this CV sub-sector is expected to witness a 10-12 percent growth," he added.
However, according to Abdul Majeed Partner at Pricewaterhouse, sales of commercial vehicles will remain constant considering the moderation in vehicle replacement and pent-up demand. This segment will see significant growth once the economic activity picks up including increase in private investments.
COURTESY: ET Auto