The Chennai Port has recorded yet another landmark performance, by handling Rock Phosphate of 21.050 tons, imported from the vessel m.v. BULKTEC on 4th March 2018.
This achievement surpassed the earlier record of 18.5k tons imported from the vessel m.v. BLUE DIAMOND, on 29th March 2009!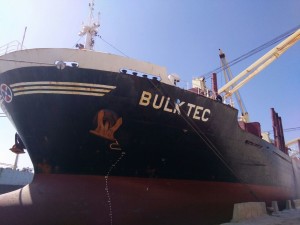 Mr. P Raveendran, IRTS Chairman, Chennai Port Trust, applauded the significant handling of the Rock Phosphate Cargo by Seatrans Marine P Ltd – Steamer Agent and Seagreen Stevedoring & Logistics P Lt.