Prime Minister Narendra Modi said on Sunday he expected around a 30 percent drop in the number of vehicles entering Delhi, as he opened two new expressways around the capital aimed at decongesting its streets and reducing deadly pollution.
A damning report by the World Health Organisation this month said India was home to the world's 14 most polluted cities, with Delhi ranked sixth most polluted. Air quality has worsened over recent winters, prompting Modi's office to directly monitor measures to clean up the capital's air.
"The expressways will greatly benefit the people of Delhi National Capital Region (NCR) by reducing pollution and will bring down traffic jams," Modi said.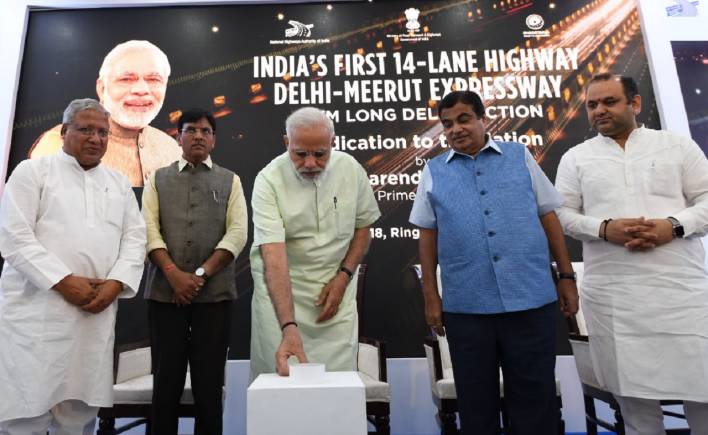 Photo courtesy: moneycontrol
The NCR is a rapidly urbanising and polluted area around New Delhi that is one-third the size of New York State, but houses 2.5 times more people.
Illegal crop burning in farm states surrounding New Delhi, vehicle exhausts and swirling construction dust have contributed to what has become an annual crisis.
The 135-kilometre (84-mile), six-lane Eastern Peripheral Expressway was built in 17 months at a total cost of around 110 billion rupees ($1.62 billion), the government said.
More than 50,000 vehicles that transit the capital city on their way to other destinations would no longer need to enter New Delhi, Transport and Highways Minister Nitin Gadkari told reporters on Saturday.
It offers signal-free connectivity and is the first green highway fully lit by solar power, has drip pumps for watering plants alongside the highway and has rain water harvesting.
Modi also opened an initial stretch of an 82 km Delhi-Meerut highway, which is India's first 14-lane.
Modi's administration is marking its fourth year in office this weekend and has vowed to speed up infrastructure development as it heads into a national election in 2019.