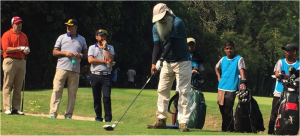 Allcargo Logistics Ltd, India's leading integrated logistics provider, as part of its CSR initiative partnered with the Isha Vidya Foundation to organize a Golf Jaunt at the Willingdon Club, Mumbai.
Isha Foundation's, "Make a Life" golf jaunt has been conceived and designed to support Isha Vidhya, an initiative promoted by Sadhguru Jaggi Vasudev, which is committed to raise the level of education and literacy among rural children and raise funds to support schools in India. Allcargo's Avashya Foundation has education as one of its primary focus areas and is proud to be associated with the initiative for the third consecutive year.
Along with Dr. Shashi Kiran Shetty (Chairman, Allcargo Logistics), Shri Sadhguru and some of the leading corporate avid golfers like Kapil Raina, Simi Mehra (among best women's golf player) and Pronip Borthakur teed off together at the jaunt.
Vaishnavi Sinha, Simi Mehra, Meher Atwal and Nikki Ponappa who are among the top 10 women golfers were present on the occasion to back the tournament and interact with the players. The tournament housed corporate golfers from the senior leadership team and many illustrious people from the business world in India and abroad as the participants.
As a part of Isha Foundation's social outreach programs, Isha Vidhya rural schools have been started in the villages (under the umbrella of Isha Education, established in 2005) to provide high quality school education to underprivileged rural children who cannot otherwise access or afford it. In 2012, Isha Vidhya began to carry out critical interventions to improve the quality of education in rural Government schools.
Commenting on the occasion Dr. Shashi Kiran Shetty Chairman of Allcargo Logistics Ltd said: "It is a delight to be a part of such a noble initiative by Isha Foundation. I would like to thank Shri Sadhguru Vasudev for inspiring and motivating each one of us and doing this great work for children. At our NGO arm, Avashya Foundation we have also been touching millions of lives through education, skilling initiatives and care for the environment. It is through education one is able to articulate better to lead the society towards the path of progress. At Allcargo Logistics we strongly believe in this philosophy and constantly work to achieve goals that make a better future."