AirAsia has signed a Memorandum of Cooperation reaffirming its intention to set up a low-cost carrier in Vietnam with local partners.
The memorandum was signed by AirAsia Group CEO Tony Fernandes and Vietnamese businessman Tran Trong Kien, in his capacity as CEO of Thien Minh Travel Joint Stock Company (TMG) and General Director of Hai Au Aviation Joint Stock Company (HAA), at the InterContinental Hanoi Landmark72 here today.
The signing, conducted on the sidelines of the Vietnam Travel and Tourism Summit 2018, was witnessed by Vietnamese Deputy Prime Minister Vu Duc Dam and Vietnamese Deputy Minister of Culture, Sports and Tourism Le Quang Tung.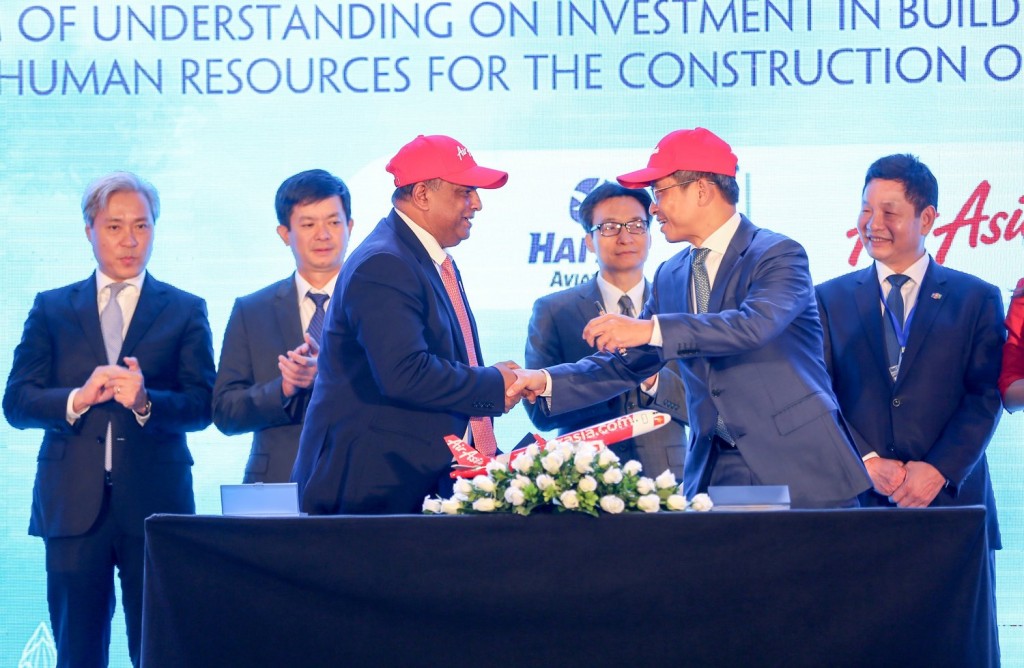 AirAsia Group CEO Tony Fernandes said, "AirAsia is an Asean airline. And in Asean, Vietnam is one of the last remaining countries with a large population we're not in. Today's memorandum reaffirms our commitment to making AirAsia in Vietnam happen. Last year, when we announced this JV, we were bullish about Vietnam and we remain incredibly bullish about serving one of the most dynamic, fastest-growing economies in Asia.
"AirAsia is already the largest foreign airline group in Vietnam by capacity. We currently operate to five destinations here, including our most recent addition, Phu Quoc. And we will continue to expand our network to connect Vietnam to Asean and beyond, something our local JV will be able to accelerate. We couldn't be more excited about the prospect of bringing more visitors to this amazing country and delivering true low-cost air travel to 95 million Vietnamese in the near future."
TMG CEO and HAA General Director Tran Trong Kien said, "Vietnam tourism has performed extremely well. The number of international arrivals has doubled over the last three years and domestic and outbound travel have also grown tremendously. The sector has contributed greatly to recent economic development and social progress. Vietnam as a country needs better connectivity to continue this trend and for tourism to reach its full potential. Adding a new airline, especially at this stage and with an experienced operator like AirAsia, is a much needed and welcomed move. This new airline will bring more and better choices to our people in the years to come."
AirAsia operates 141 return flights weekly on 13 routes – including six unique routes – connecting Hanoi, Ho Chi Minh City, Da Nang, Nha Trang and Phu Quoc with Kuala Lumpur, Penang and Johor Bharu in Malaysia, Bangkok and Chiang Mai in Thailand and Manila in the Philippines, and has carried 12 million passengers to and from Vietnam since entering the market in 2005.