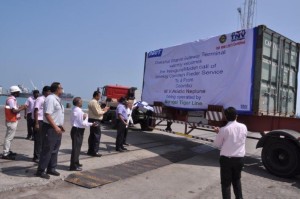 A new weekly container feeder service with the port rotation of Colombo – Cochin – Colombo – Tuticorin – Colombo commenced from the Dakshin Bharat Gateway Terminal (DBGT) operated 8th berth, the second container terminal of V.O. Chidambaranar Port on January 20, 2017 (Friday). The container feeder vessel MV. ASIATIC NEPTUNE operated by Bengal Tiger Line (BTL) is expected to add approximately 40,000 TEUs/year. The 2007 built MV. ASIATIC NEPTUNE has the capacity of 1155 TEUs and maximum draft of 7.8m.
Participating as the Chief Guest, Chief Mechanical Engineer Shri P Ravindran flagged off the service from the 8th berth in the presence of Traffic Manager Shri U Rajendran and senior officials of DBGT.
"We expect the operator of the 8th berth to bring in more services and also to take steps to start mainline services in the future," Chief Mechanical Engineer Shri P Ravindran said. He also urged the DBGT to ensure that the conversion of 8th berth as Container Terminal should be in place by June 2017 so that the Port can cater to the increase in demand of containers.
In 2016-17, up to December 2016, DBGT has handled 74,204 TEUs. The eighth berth with a capacity of 6 lakh TEUs commenced its temporary operation on May 11, 2014 by deploying reach stackers. Extending his greetings to the stakeholders, Shri S Anantha Chandra Bose, Chairman, V.O. Chidambaranar Port Trust said that the Port is taking all efforts to attract more container cargo and to promote ease of doing business.