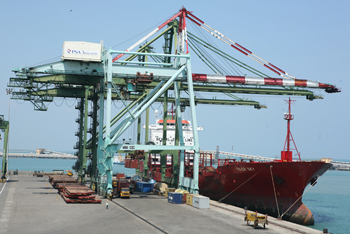 V.O. Chidambaranar Port, one of the fastest growing Major Port of the country has handled record throughput of 286.42 lakh tonnes during the financial year 2013-14, surpassing the previous year's achievement of 282.60 lakh tonnes, registering a growth of 1.35 %, in spite of Global Cues.
The Imports accounted for 209.77 lakh tonnes and Exports accounted for 76.65 lakh tonnes. A growth rate of 1.35 % has been achieved due to handling of higher volume of Thermal Coal, Pet Coke, Containers in terms of Imports. As far as Export are concerned, the volume had been higher in commodities like Copper Slag, Phosphoric acid and Machinery etc.
The Port has also performed exceptionally in Container Handling by handling 5,07,735 TEUs during the financial year 2013-14. When compared to the previous year's container traffic of 4,75,599 TEUs., there is an increase of 6.76 %,
performing well above the Ministry of Shipping's Target of 5,00,000 TEUs.