V.O.Chidambaranar  Port, the vibrant seaport of South India,   crossed the previous Financial Year's traffic of 32.41 Million tonnes on 18.02.2016,  42 days ahead during the current financial.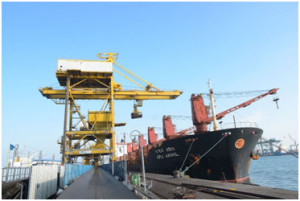 This year, up to February 18, 2016, the Port has been maintaining an impressive Cargo growth at 17.18 percent as compared with the same period of last financial year.   The Major cargoes that contributed to the unparalleled achievement are Thermal Coal (15.29% growth), Containers (9.54% growth), Industrial Coal (9.21% growth) and Fertilizers (11.78% growth). Copper concentrate, Rock Phosphate, Construction materials, Lime Stone have also contributed significantly in achieving this record.
Shri. S. Anantha Chandra Bose, Chairman V.O. Chidambaranar Port Trust thanked all the stakeholders viz.  Port Users, Vessel Operators, the Container Terminal Operators and Officials and employees of the Port who have contributed to achieve this  record and requested to continue the better performance in the future to achieve the Ministry's cargo traffic target of  36.80 Million Tonnes  set for the financial year  2015-16.