V.O. Chidambaranar Port has bagged National Award for Excellence in Cost Management for the year 2016 from 'The Institute of Cost Accountants of India' under the category "Transportation and Logistics".
On behalf of V.O. Chidambaranar Port, Smt. S. Shanthi, Financial Adviser & Chief Accounts Officer received the award from Shri Piyush Goyal, Hon'ble Union Minister of State for Power, Coal, New and Renewable Energy and Mines in the presence of Shri Arjun Ram Meghwal, Hon'ble Union Minister of State for Finance and Corporate Affairs for the category Transportation and Logistics in a function held at New Delhi on 18.07.2017. It is matter of pride that the Port is receiving this award for fourth time. Earlier, the Port has received the award during the year 2008, 2012 and 2015 under the category "Service Sector".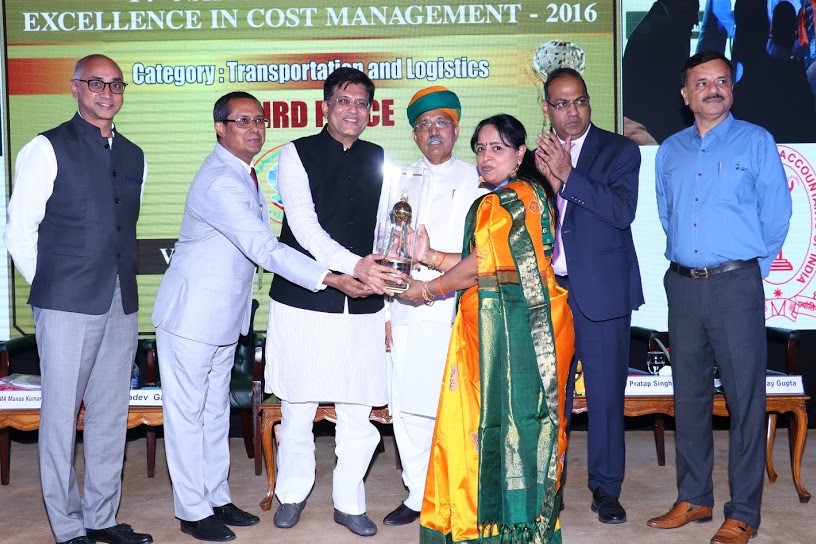 The award has been given for exemplary performance and initiatives of  V.O. Chidambaranar Port towards reduction of cost per tonne, Optimization of Manpower, savings in electricity by installation of energy efficient LED Lightings, implementation of Solar Energy Systems, Reduction of Overall Cost of Handling by Mechanization in Port operation which resulted Improved Efficiency, quick evacuation of cargo and reduction in logistics cost to the EXIM Trade. It is also pertinent to note that during the financial year 2016-17, the operating ratio of the Port was 41.46%, the best among the Major Ports of India.
The Institute of Cost Accountants of India, a statutory body under an Act of Parliament, presents awards for excellence in Cost Management to promote and recognize Cost Management practices in the Corporate Sector. The awards were distributed under various categories like Manufacturing, Healthcare, Consulting, Banking, Financial services and Insurance, Power Distribution and Transmission, Telecommunication & Information Technology, Infrastructure & Construction Services and Transportation and Logistics.