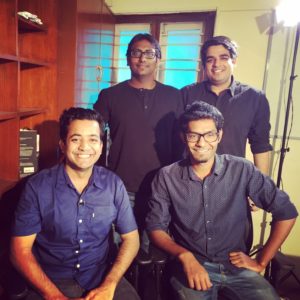 Unacademy, India's largest free online learning platform, has raised additional $1 million in their second round of external investment. In April 2016, they raised their first round of funding worth $500k.  The current  investment round  is being led by Blume Ventures,  along with Stanford  An- gels India,  WaterBridge Ventures,  Sachin Bansal, Binny Bansal, Vijay Shekhar  Sharma,  Kunal Shah, Sandeep  Tandon, Ashish Tulsian,  Tracxn  Labs and  most  of their  existing  investors  participating in the round.
Unacademy is India's largest  free online  learning  platform  that  allows educators to create  courses using their  app on various  subjects,  including  exclusive  content for various  competitive exams. Their vision is to get the best minds of the country share their knowledge in an easily comprehendible form.  More than 100 educators have created 200+ courses in the last eight months since the launch of their platform Unacademy.in. The platform attracts more than 1M video views monthly now, their growth so far has been mostly organic.
"What started as an experiment has today become one of the most reliable sources of online education.  From content specific to competitive examinations to basic English learning techniques, we are in a process to make Unacademy the one-stop destination for online courses across myriad fields and subjects.
From IAS topper 2016, Tina Dabi, to India's first woman IPS officer, Kiran Bedi, we aim to get courses from only the best on our platform.  Within two months, the Un- academy Create app will be made available to all, so anyone across the world can create lessons in any language they like. After a thorough screening process, we will make the relevant lessons available on our platform that will be free for all to see," says Gaurav Munjal, Co-Founder and CEO, Unacademy.
In a span of eight months, over 300,000 students have benefited from over 2,400 on-line lessons and specialized courses on cracking various competitive examinations, on our platform.  Our success stories include thousands of students who have cracked toughest of examinations, improved their ability to speak and write better and increase their knowledge.  Some of our students have to- day become educators on Unacademy and that is what we call a true educational revolution. India is home to 19 per cent of the world's youth and we are empowering them to take on the world in a manner that classrooms will never do. Our vision is to partner with the brightest minds and have courses on every possible topic in multiple languages so that the whole world can benefit from these courses.
Karthik Reddy, Managing Partner, Blume Ventures, says, "Unacademy presents a great  exam- ple of the beginnings of an incredible shift in India's Internet—the ability of millions  of new inter- net users  using smartphones as their  only access  device  to create  and  consume high quality cu- rated  educational content as easily as laying hands  on a textbook.  And the product is designed for both lightweight production and consumption—in that it's ingenious.  This can change learning to an entirely different plane and kill a lot of ineffective institutional frameworks. And it's an absolutely crack team of young founders for whom all else, including the IAS, didn't compare  to the ambition" goal and  impact  that  an Unacademy can have.  This is why we think tech can be such a game changer even in education in this country."
Sachin Bansal, Executive Chairman, Flipkart, says, "Education and  learning  from the best suited teachers and  professionals is a global problem,  which, I believe,  Unacademy solves seamlessly with its interactive and  intuitive  content. In a short  span of eight months, the founding  team has proved  that  leveraging  technology  to empower  its educators and  students is a problem  that  can be solved effectively at scale.  I am impressed by the ease with which educators can speedily upload videos and touch a billion lives with effective
lessons. I am confident  that  the strong  founding team  of Unacademy is well positioned to truly disrupt  traditional classroom  teaching  with more impactful content, and  I am proud  to back the venture."
Kiran Bedi, Lt. Governor, Puducherry, and also an educator at Unacademy, says, " It took me ten minutes to make  a video lesson  on 'Time management and  productivity'  on the Unacademy Create  app, and  impact  a million  lives with my learning.  The overwhelming response from students, along with the simplicity with which the app has been designed, encourages working professionals to share their experience. It is an unconventional way for students to get the perspective of real life challenges and lessons and makes me believe everyone can be a teacher. I urge Un- academy to conduct lessons and workshops in Puducherry. Unacademy cuts across boundaries. It's truly global and in one's own hands."
ABOUT UNACADEMY:
Unacademy is founded by Gaurav Munjal, Roman Saini, Hemesh Singh and Sachin Gupta.  Gaurav and Hemesh were previously running Flatchat which was acquired by CommonFloor in 2014. Roman, 24, is a doctor from AIIMS and one of the youngest persons to crack the Civil Services Examination. To follow his passion for building Unacademy, he quit the administrative services from the post of Asst. Collector of Jabalpur to start Unacademy.