Policy-makers and business leaders from India and the UAE converged in Dubai for the inaugural edition of the Economic Times India-UAE Strategic Conclave.
DUBAI : The UAE and India will have to further explore possible areas of synergy to advance bilateral trade between India and the UAE, saysHis Excellency Sheikh Nahyan bin Mubarak Al Nahyan, the UAE Minister of Culture and Knowledge Development.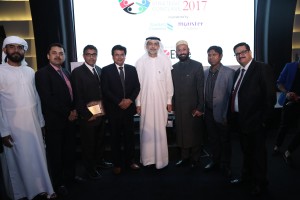 Both the countries understand the economic and social benefits that come from openness to the world with focus in trade, investment, and culture, said H.E.Sheikh Nahyanbin Mubarak Al Nahyanwhile delivering his speech titled "the way forward for India-UAE relations" at the first edition of the Economic Times India UAE Strategic Conclave 2017, held in Dubai on Wednesday. The two-day event, attended by business leaders and senior government officials, kicked off giving a further fillip to the bilateral and business relations between the two countries.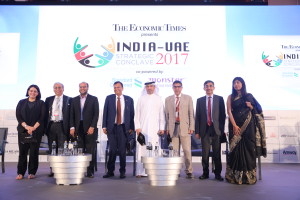 "There is more room for discussions to attain deeper integration between the two countries to build even stronger business and economic links for mutual prosperity, and develop common understandings of our shared challenges and opportunities, manage globalisation and share the benefits of modern technologies. This will help take advantage of the emerging position occupied by both India and the UAE in the world economy," he added.
H.E.Sheikh Nahyanbin Mubarak Al Nahyanelaborated that the UAE and India have been friends for many centuries and that extended through several generations of families from both countries. Leaders of the modern UAE have exercised their wise judgement in favour of friendship with India for over 45 years. Both countries now work on the measures to strengthen mutual political, economic, commercial and cultural relations.
"Earlier this year, the Prime Minster of India Narendra Modi signed a Memorandum of Understanding with H.H. Sheikh Mohammed bin Zayed al Nahyan, Crown Prince of Abu Dhabi and Deputy Supreme Commander of the UAE Armed Forces, who was India's Chief Republic Day Guest. The MoU pertains to a wide range of bilateral economic activities and an ambitious roadmap for engagement and strategic partnership," he remarked.
H.E.Sheikh Nahyan bin Mubarak Al Nahyanreiterated,"This partnership has furnished outstanding results, as the UAE is India's third largest trading partner, and the UAE ranks ninth among all nations measured by their foreign direct investments in India.Indian expatriates in the UAE have led the world by remitting almost 25 per cent of the total $62.7 billion dollars of foreign transactions received by India in 2016."
In his keynote address H.E. Navdeep Suri, Indian Ambassador to the UAE, said, "There has never been a better time to expand the business connections links between India and the UAE. There are enormous Indian investments in to the UAE. We want to see much more business and investment interests from the UAE into India, and I hope that a conference like this would certainly take that forward. The strategic partnership signed between India and the UAE at the beginning of this year is being progressively translated into reality, and the links between India and UAE are getting strengthened in entirely new areas."
In his welcome address, Mr. Deepak Lamba, President of Times Strategic Solutions, expressed his gratitude on behalf of The Economic Times for receiving an overwhelming support to the Economic Times India UAE Strategic Conclave 2017. "The Conclave took a deep dive into some of the micro issues that carve the way forward for substantial investments and greater cooperation both on the business and government front.Business leaders from both the countries deliberated on macro structural issues that need to be addressed to build confidence. Much has been talked about the USD 75 billion infrastructure fund from the UAE, throwing light on the action points which can speed up the investments," he said.
At the Conclave, H.E.Sheikh Nahyan bin Mubarak Al Nahyan launchedthe Economic Times Best Asian Healthcare Brands coffee table book; and felicitated listed brands. H.E. Navdeep Suri felicitated investment agencies that have helped enhance bilateral investment between the two countries.
The business leaders' panel titled "Remodelling Globalisation: Co-functioning in a fast-changing world and the opportunities between India and the UAE", deliberated on developing a medium and long-term strategy for key industry sectors to increase bilateral trade. The panel included CP Gurnani, MD & CEO of Tech Mahindra; Sanjay Modi, MD – APAC & ME, Monster.com; Sunil Kanoria, Co-Founder & Vice-Chairman – SREI Infrastructure; Sharafudheen Sharaf, Co-Founder & Vice-Chairman – Sharaf Group; Manish Dhameja, MD & Head of Commercial Banking UAE – Standard Chartered Bank; H.E. Abdulla Al Darmaki, CEO of Khalifa Fund for Entreprise Development; Khalid Al Mansouri, CEO of Emirates Driving Company.
Another panel discussion deliberated on making the USD 75 billion infrastructure fund work for India. The panel included K Ramchand, Group CEO of IL&FS; Ravi Khanna, CEO of Aditya Birla Solar; Rajiv Agarwal, MD & CEO of Essar Ports; Capt. BVJK Sharma, CEO & JMD of JSW Infrastructure; Jayant Mhaiskar, Vice Chairman & MD of MEP Infrastructure; Edwin Lammers, VP Commercial of Abu Dhabi Ports.
Other speakers on the final day of the Conclave included Dr.Naresh Trehan, Founder & CMD of Medanta Medicity; Dr. B.R. Shetty, Founder & Vice-Chairman of NMC Healthcare; Anshu Budhraja, CEO of Amway India; and Sunil Duggal, CEO of Dabur.
The two-day Economic Times India UAE Strategic Conclave included a variety of panel discussions and sessions aimed at addressing the policy framework and guidelines needed to attract investors, sovereign wealth funds, large corporate houses and industries.