Having successfully staged the last Tyrexpo India 2015 show in Chennai, India, SingEx Exhibitions – the organizer of India's one-stop marketplace for the Tyres, Automotive Repair and Maintenance, Services and Smart Solutions, and Tyre Sustainability sectors — will open Tyrexpo India 2016 in New Delhi, India from 14 to 16 June 2016 at PragatiMaidan Hall 12. The new location is part of Tyrexpo India's expansion plans to cater to the growing needs of the North India tyre market.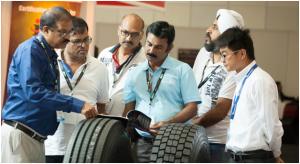 "When we first launched Tyrexpo India in Chennai, we forecasted and recognized the potential growth of the tyre industry in India. After tracking the successes of our three editions in Chennai, and with the city of New Delhi expected to become one of the world's largest tyre manufacturing centers over the next decade, we felt that it is time for us to expand our coverage in India. The event in New Delhi aims to fortify the local tyre market by connecting local companies across India with International ones, and creating platforms for knowledge sharing and conversations", said Ms Eileen Hair, Project Director of Automotive and Commodities Cluster.
Duplicating the format of the Chennai, India event in 2015, the New Delhi event will focus on four segments — Tyres, Automotive Repair and Maintenance, Services & Smart Solutions and Tyre Sustainability — which are the growing needs of the industry. Visitors will benefit from the following new and key elements at the event:
Strengthen the Workforce through Workshops, Seminars and Congress
Presented by Tyre Times and co-located with Tyrexpo India 2016, "Tyre Retail Congress", a new one-day conference which is part of the "TyrexpoTechTalk Seminar" will bring together tyre brands, retailers, distributors and auto enthusiasts to engage in discussions and stay ahead of the rapidly evolving business landscape.
"TechTalk Seminar" (TTS) is a series of workshops and knowledge programs to sharpen the skills of specialists and engineers, and keep industry players abreast of the latest developments. Industry experts from Automotive Tyre Manufacturers Association (ATMA), Bosch, Elgi Rubber and others will speak about the various challenges and trends business owners and professionals face to stay competitive.
The "Tyrexpo Technical Workshop" (TTW) is a series of engaging hands-on product demonstrations aimed to hone the skills and expertise of those in the tyre repair trade to meet the demands for better quality service and standards.
Discover Wider Range and New Products at the Exhibition
Trade visitors will be able to source and discover a wider range and new products, services and solutions for the India and export market from close to 100 international tyre and automotive companies such as BKT, Elgi Rubber, Shandong Linglong, Bosch and others. With more choices, both exhibitors and visitors will be able to find new solutions on tyre recycling, sustainable and smart solutions that can be used to manage or run their business more efficiently, reduce man power cost and increase higher productivity.
Tyre& Rubber Industry Leadership Acknowledgement Awards (TRILA)
Behind this growing industry is the unsung heroes who have placed significant efforts and contributions to the sector. Presented by Tyres Times and powered by SingEx Exhibitions, these heroes will be recognized for their achievements on 15 June at the 2016 Tyre& Rubber Industry Leadership Acknowledgement Awards (TRILA).