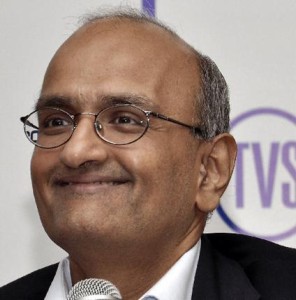 Coinciding with PM Narendra Modi's visit to the UK, TVS Logistics, India's leading third party logistics service provider, on Friday announced that its UK business, TVS Supply Chain Solutions, will become the regional hub for the whole of Europe and a knowledge hub for supply chain.
To mark this occasion, the company will open a 165,000 sqft advanced logistics facility in Barnsley, with a rental commitment of £20m (Rs 200 crore), where it will have its distribution warehouse and call center.
The new facility is expected to create 100 jobs as they expand the business in the future, said a press release.
This major facility also stems from the fact that TVS SCS, in a consortium with technology company team Leidos, won a key contract from the UK ministry of defense (MoD) for its procurement solutions.
The contract, worth £5 billion over a 13-year period, will see TVS play a key role in data management, inventory management, procurement and product sourcing for the full range of military and non-military commodities required by the ministry, including food, clothing, pharmaceuticals, medical equipment and general supplies.
As part of the contract, TVS will introduce improved procurement processes that will lead to reductions in stockholdings and commodity prices and generate £500 million worth of efficiencies to the UK ministry of defense over the 13 years.
The company said its UK business has multiplied its revenues nearly seven times in the last five years, growing from £40m (Rs 400 crore) to £274m (Rs 2,740 crore) forecast for this financial year.
R Dinesh, managing director, TVS Logistics Services, "The UK is a highly successful investment destination for the company. Using our unique capability, TVS Logistics will work to help the `Make in India' campaign successful as it has the know-how to make manufacturing in India logistically competitive. TVS can provide significant benefits to the Indian Armed Forces through the learning from its UK division to reduce cost, improve availability and overcome obsolescence issues in non-military commodity requirements such as food, clothing, medical equipment, pharmaceuticals and in the Indian Army's military vehicle fleet."
TVS has made three acquisitions in the UK and operates through 47 locations in the UK, 4 in Ireland and 84 locations in Europe.
Its business is primarily focused on providing supply chain services for clients in the sectors like defense, industrial, automotive, beverage, technology, utilities.
TVS SCS already provides over 2500 jobs in the UK and in Europe and is one of the largest Indian employers in Northern England. The company will look to add another 550 new jobs as it expands its business in the next five years, said Dinesh
courtesy:FE