In cooperation with the Indo-German Chamber of Commerce, TÜV SÜD will present its comprehensive portfolio of rail services at the International Railway Equipment Exhibition (IREE). The only international event in India for the Railway and related sectors will be held in New Delhi from 11 – 13 October 2017. The Rail experts of TÜV SÜD can be found at Hall 12A, stand 4A.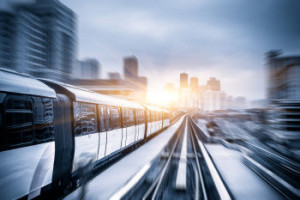 With more than 24.000 employees at over 800 locations TÜV SÜD is one of the leading technical services providers. The Rail Business Unit of TÜV SÜD offers full-service for rail systems worldwide. Its service portfolio includes inspection, certification, testing and training along the entire value chain in the rail sector. Further consulting and engineering services are provided by SIGNON, a subsidiary of TÜV SÜD. At IREE 2017 the Rail experts of TÜV SÜD will focus on Rail Consulting & Design for Railway and Mass Transport, Energy services, Signalling services, Refurbishment services of Rolling Stock, Civil Works and the specialized Software Tools of SIGNON.
The complex inter-dependencies of signalling, telecommunications, power supply and other safety-critical equipment and systems pose real challenges for operators and manufacturers. As an Independent Safety Assessor (ISA), TÜV SÜD provides independent assessment services of generic products and generic and specific applications in accordance with European standards and IEC standards. They assist operators and manufacturers in the development and implementation of the European Train Control System (ETCS) as well as Communication-based Train Control (CBTC) solutions. The services are supported by proprietary tools including SIGNON SATvalid, a tool for the recording and automatic validation of ETCS route data. Together with SIGNON, TÜV SÜD also supports construction companies in designing and implementing challenging metro and rail projects with SIGNON Suite software tools.
Rail operators in India and worldwide are facing the challenge of having to create additional capacities in passenger and freight transport and further improving operational reliability while cutting costs. Refurbishment of rolling stock offers rail operators an interesting alternative to purchasing new rail vehicles. Extended life time of existing rolling stock promises the best possible use of investments. TÜV SÜD offers special refurbishment services, e.g. safety related assessments of refurbishment measures and quality assurance.