Connecting the Key Logistics & Supply chain Stakeholder on One Mega Platform
TraiCon Events will be hosting India's premier freight transport, logistics, warehouse & supply chain management event called "2nd Edition Multimodal Show" which will be held at the Hotel Vivanta Dwarka, New Delhi on the 12th & 13th May 2022. This forum will be attended by over top 250+ participants, key logistics & supply chain officials, warehouse & logistics parks infrastructure project stakeholders and government officials from across the India.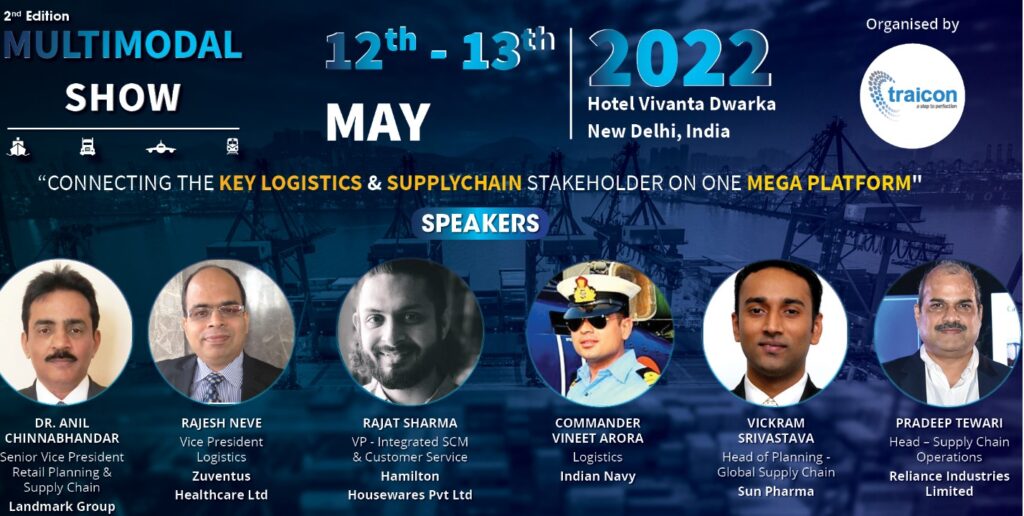 This summit brings the forefront exemplary thought leaders & movers from all modes of freight transportation including sea, road, rail, and air under one roof to successfully meet & network with the latest logistics & supply chain solution providers in-order to improve their businesses by finding new ways of moving their products more efficiently. This summit will provide the opportunity for the first time ever, to hear both the shared and nuanced perspectives of multimodal logistics modernization across the key vertical sectors, including manufacturing, retail, municipality, FMCG, chemical, automotive, electronics, food & drink, fashion, pharmaceuticals, construction, oil & gas, aerospace, energy, real estate, recycling, paper/print and many more. This summit would be featuring a host of very interesting case study presentations from industry experts such Shri. Dr. Anil Chinnabhandar Senior Vice President Planning & Supply chain at Landmark Group India, Cmdr. Vineet Arora Logistics Manager at Indian Navy, Vickram Srivastava Head of Planning – Global Supply Chain at Sun Pharma, Pradeep Tewari, Head – Supply Chain Operations at Reliance Industries Limited, Rajat Sharma VP – Integrated SCM & Customer Service at Hamilton Housewares, Avnish Naik Head Logistics & Warehouse at Raymond Limited, amongst many others.
Many technology solution providers, logistics companies, warehouse automation & material suppliers would be participating in the Multimodal Logistics Transport Summit as Sponsors and Exhibitors who will be showcasing their host of solutions.