The supply chain logistics business is not easy on the startups. In India, though the business is propelled by e-commerce, retail and manufacturing sectors, half a dozen startups despite integrating technology into the age-old logistics space closed down operations last year.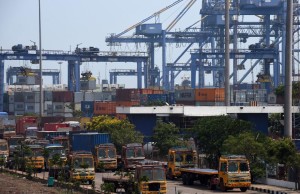 Trucks waits to exit a container terminal in Chennai. (Photo credit AFP/Getty Images)
This resulted in others in the business upping the ante in offering faster, smarter and more cost effective services using big data, artificial intelligence (AI) and predictive analytics.
"In logistics, India is sandwiched between growing demand for services and a fragmented market. This presents a high growth market opportunity for startups aiming to organize the market and improve efficiency through technology," says Nishith Rastogi, co-founder of Locus, a startup that uses AI to help businesses automate and optimize their logistics.
"But simply adding a layer of technology over traditional process can't solve deep-rooted problems such as unorganized truck ownership and poor infrastructure," adds Rastogi.
And that impulse has prompted Locus to invest in intelligent routing engine and 3D packing. "There are number of ways to deliver goods, but for a human mind to factor in traffic, the order of delivery, estimated time of arrival, and other restrictions could take days. And that is where efficiency is lost, and AI brings in better and faster results," adds Rastogi.
But India has grossly inadequate infrastructure. While it is ploughing ahead with economic reforms and luring global brands to invest in the country, businesses have to deal with its creaking infrastructure. The country is ranked 35th in World Bank's Logistics Performance Index 2016. Freight trains travel at an average speed of about 25km an hour, inadequate domestic aviation, many national highways remain clogged with excess traffic and scarred by potholes. On top of it, there's lack of skilled labor and connectivity.
Recommended by Forbes
Also, until recently, the checkpoints at the borders of states within India used to consume line-haul hours in unproductive waiting for truckers. That has now been eased, with the rollout of goods and services tax (GST) in July.
"The poor integration of road networks, technology, warehousing and distribution facilities make the cost of logistics very high in India, about 14% of GDP," points out Rastogi. "Reducing costs will bring down prices of products." India's high logistics costs makes its exports uncompetitive vis-à-vis China, which has 8-10% logistics cost.
A study by Associated Chambers of Commerce and Industry of India found that the country can save nearly $50 billion if logistics costs were to reduce to 9% of the GDP.
courtesy: Forbes