The Maritime Standard Awards – a grand event, is being held under the Patronage of H.H. Sheikh Ahmed Bin Saeed Al Maktoum, President, Dubai Civil Aviation Authority and Chairman and Chief Executive, Emirates Airline and Group.
The event will be held on the 23rd October 2017 at Atlantis, the Palm, Dubai, with approximately 800 people in attendance who are the crème de le crème of the shipping and maritime industry from the Middle East and the Indian Subcontinent.
The Maritime Standard has announced the names of the finalists for its fourth annual The Maritime Standard Awards, to be held on Monday, 23 rd October 2017, at the Atlantis, the Palm, Dubai. Around 800 people are expected to attend, including many high-level executives and senior governmental figures.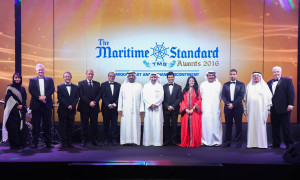 (H.H. Sheikh Ahmed Bin Saeed Al Maktoum, President, Dubai Civil Aviation Authority and Chairman and Chief Executive, Emirates Airline and Group (centre), (left to right) Noura Rashed Al Dhaheri, Abu Dhabi Ports; Ray Girvan, Glenbuck Publishing; Clive Woodbridge, The Maritime Standard; Yasser Nasr Zagloul, National Marine Dredging Company; Rajiv Agarwal, Essar Ports; H.E. Shaikh Daij Bin Salman Al Khalifa, Arab Shipbuilding and Repair Yard; Rania Ali; Khamis Juma Buamim, Gulf Navigation; Ali Lakhani, Dubai Trading Agency; Dr. Abdullatif Abdullah Bin Sultan, Organisation of Islamic Shipowners Association; Jim Clancy)
Over the past few weeks an elite panel of judges has been evaluating nominations for a total of 20 different categories for The Maritime Standard Awards 2017.
The Editor of The Maritime Standard, Clive Woodbridge, says, "The standard of entries across all categories has been extremely high this year, and we have had a record number of nominations. So it has been a very hard job for the judges to come up with a short list, but they have done so and those who are in contention for an Award are all really top quality."
The categories than have been judged by the panel are: Safety and Security; Environmental Protection; Green Shipping; Technology & Innovation; Corporate Social Responsibility; Maritime Education and Training; Maritime Crewing and Manning; and Maritime Security. In addition there are awards for Passenger Ship, Leisure Craft and Yacht Builder; Shipyard/Ship Repair Facility; Marine Broker; Marine Insurance Company; Ship Manager; Ship Agency; Tanker Operator; Ship owner and Operator; Classification Society; Terminal Operator, Shipping Company and Port of the Year.
In addition to the Awards chosen by the judging panel, based on nominations received, there will be a number of individual awards selected by The Maritime Standard. These include Deal of the Year; Young Person in Shipping; Woman in Shipping; TMS Excellence in Shipping; Editor's Choice; Outstanding Achievement, Personality of the Year; Life Time Achievement; and Hall of Fame Awards.
This year's The Maritime Standard Awards will have more than a touch of Bollywood glitz and glamour, as it has been confirmed that actress, model and former Miss Universe, Lara Dutta, will host the event. The Maritime Standard Awards is a high profile, glittering and unique event that aims to recognize exceptionally high levels of achievement in the shipping, ports and related industries in the Middle East and the Indian Subcontinent. The finalists have been chosen from over 160 nominations received this year, a record number.
The selection of these shortlisted companies and organisations has been carried out by a respected, independent judging panel, based on the ability to demonstrate high levels of quality and performance against the particular criteria set for each category. The Maritime Standard Awards 2017's judges comprises of experienced, well respected individuals that have been drawn from many different fields, they are:
• Clive Woodbridge, Editor, The Maritime Standard (Chairman of the Judging Panel)
• Mohammed Ali Ahmed, COO, DP World UAE Region
• Ali Shehab, Deputy CEO, Kuwait Oil Tanker Company
• Abdulkareem Mubarak Ahmed Al Masabi, Vice President- Ports Unit, Abu Dhabi Ports and Chairman, Abu Dhabi Terminals
• Tarik Al Junaidi, CEO, Oman Shipping Company
• Capt. Anoop Sharma, Chairman & Managing Director, The Shipping Corporation of India Ltd.
• Arun Kumar Gupta, Managing Director, Indian Ports Global Ltd (IPGL)
• Rajiv Agarwal, CEO and Managing Director, Essar Ports Ltd
• Capt. Jitendra Misra, Managing Director, Emarat Maritime LLC