Industry experts discussed during 9th SIAM Logistics Conclave
New Delhi, Society of Indian Automobile Manufacturers (SIAM), the apex body of the automobile industry, organized the 9th SIAM Automotive Logistics Conclave. The conclave themed 'Road to Sustainability: The Future of Automotive Logistics' witnessed active participation from several coveted speakers including senior government officials, logistics heads of automobile companies, and experts from the automobile supply-chain.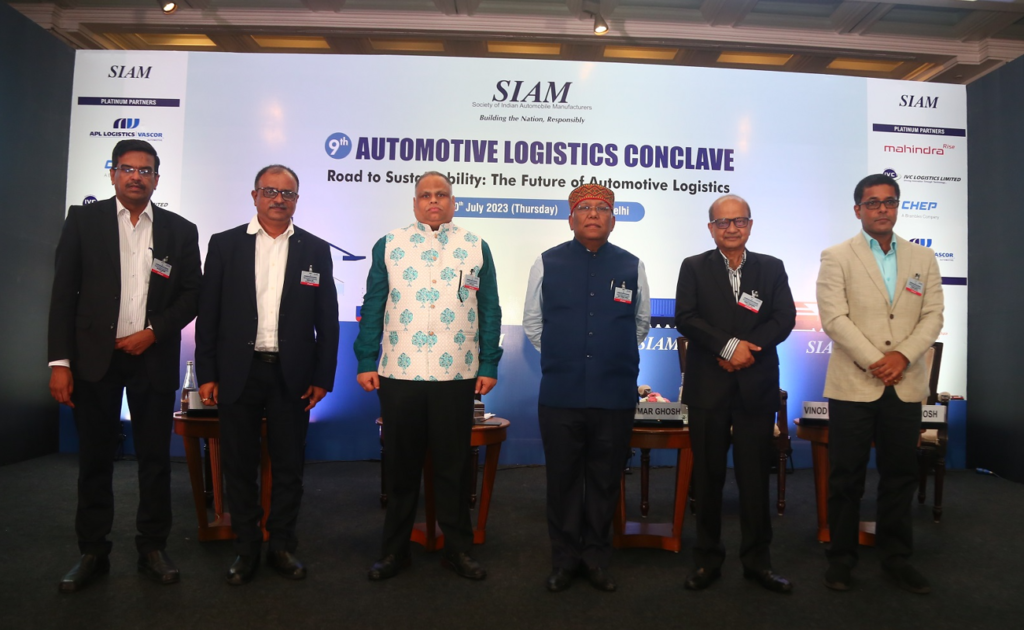 The first session was centred around "Automotive Logistics: Practices for Enhancing Efficiencies". During the session, Mr. Ashish Choudhary, Operating Officer, Honda Motorcycle & Scooters India Pvt. Ltd, said, "Implementing disruptive technologies is crucial for improving efficiency in the automotive business. Time, distance, and efficiency are key factors affecting cost and delivery. Emphasizing the use of relevant technology, like Google Maps, will facilitate our efforts to achieve the highest level of efficiency and ensure in-time delivery" and Mr. Jasjit Sethi, CEO, TCI Supply Chain Solutions, said, "To improve efficiency in the automotive industry, we must focus on implementing cutting-edge technologies such as GPS tracking system. Expanding the rail network and coastal shipping will enhance the supply chain. Moreover, there is a need for robust collaborations between automotive industry and logistics solutions providers to improve efficiency."
The second session was themed on "Enabling Seamless Goods Transportation in Inter & Intra State Routes" wherein Mr. Anil Chhikara, Dy. Commissioner, Transport Department, Government of NCT of Delhi, said, "To enhance ease in transportation and establish India as a driver powerhouse, we must focus on improving drivers' abilities, educating them about rules and regulations, and addressing their issues, primarily developing requisite infrastructure on highways like sanitation facilities. Compliance with government regulations and adopting cutting-edge technology in vehicles will strengthen automotive logistics in India and ensure seamless transportation" and Mr. Achal Paliwal, General Manager, Tata Motors Ltd., said, "Treating drivers with care and providing requisite facilities is essential for the automotive industry's success. India's improved road connectivity and ongoing highway development will enhance seamless movement. Equipping vehicles with eating and sleeping facilities is crucial for drivers' comfort and welfare. It is important for OEMs and Logistics Service Providers to collaborate with the government and take requisite actions to enhance logistics efficiency."
During the third session on "Synergies between Rail & Road Logistics", Mr. S. P. Singh, Joint Secretary (IAHE & Logistic), Ministry of Road Transport and Highways, said, "The government is focusing on the 4Is—Infrastructure, Information, IT, and Integration—to improve the effectiveness of the Indian supply chain. Under PM Gati Shakti, government ministries and departments create plans after examining the requirements of India's logistics infrastructure. It is pushing digitization and aiming to create a suitable information system to assist the industry in determining the shortest distance, by placing emphasis on integration" and Mr. Prakash Gaur, CEO, National Highway Logistics Management Limited, said, "A multi-stakeholder approach is required for the automobile industry to expand and successfully meet consumer demand. The government is continuously working to lower logistics cost, which is crucial for enhancing the customer experience and fostering the sector's expansion. The private sector must come up with plans to create a strong logistics ecosystem."
During the concluding session, Mr. Vinod Aggarwal, President, SIAM and CEO & MD, Volvo Eicher Commercial Vehicles Ltd., said, "The Indian automobile industry needs to increase efficiency and long-term sustainability. In accordance with the National Logistics Policy (NLP), it must focus on lowering logistics costs of transportation, warehousing, and administration, which account for about 14% of GDP. Additionally, the issues faced in increasing efficiency, such as time-consuming tasks like loading and unloading of cargo, must be highlighted. Additionally, the industry must concentrate on addressing the driver shortage by enhancing the appeal of this profession, by improving amenities like insurance and working conditions."
Mr. E Srinivas, Joint Secretary (Logistics), Department for Promotion of Industry and Internal Trade (DPIIT), Ministry of Commerce & Industry, said, "India has climbed six places in the World Logistic Performance Index (LPI) and occupied 38th position. This has become possible due to the government's constant efforts and futuristic initiatives. The PM Gatishakti and National Logistic Policy (NLP) aim to create a robust logistics ecosystem in the country while reducing costs."
Mr. Amit Kumar Ghosh, Additional Secretary (LA & Highways), Ministry of Road Transport and Highways, said, "Transportation costs are one of the major concerns faced by the industry and we need to implement state-of-the-art technologies to reduce the cost and improve efficiency. There is also a need for more seamless toll systems and the ministry is already working on it. Further, we need to elevate the reputation of the driving profession by enhancing drivers' comfort with initiatives like air-conditioned cabin trucks, among others".
Automobile Industry's recommendations for improving logistics efficiencies was shared by Mr. Rakesh Sen, Chairman, SIAM Logistics Group & Vice President, Mahindra & Mahindra Ltd and Mr. Tapan Ghosh, Co-Chairman, SIAM Logistics Group & Vice President – Sales, Hyundai Motor India.