Tata Motors released its 14th Annual Sustainability Report, titled 'Sustainable Mobility, Smart Cities', reinforcing its commitment towards 'Triple Bottom Line' – Social, Environmental and Economical. The report was unveiled by Mr. Satish Borwankar, COO & ED on 31st August, 2018. The report is prepared as per the GRI Standards 'in accordance – comprehensive' criteria and externally assured by TUV India. It is also aligned to the principles of 'United Nations Global Compact', 'Sustainable Development Goals' and 'National Voluntary Guidelines on Social, Environmental and Economic Responsibilities of Business' of the Ministry of Corporate Affairs, Government of India.
Tata Motors launched its Sustainability Policy in November 2017, with the aim of creating value, contributing to sustainable development and demonstrate the corporate citizenship. The policy guides in establishing sustainability governance, identification of material sustainability issues and development of sustainability strategies aligned with global and national sustainability commitments. The policy stimulates Tata Motors aspirations to become the global sustainability leader in the transport sector considering futuristic mobility solutions.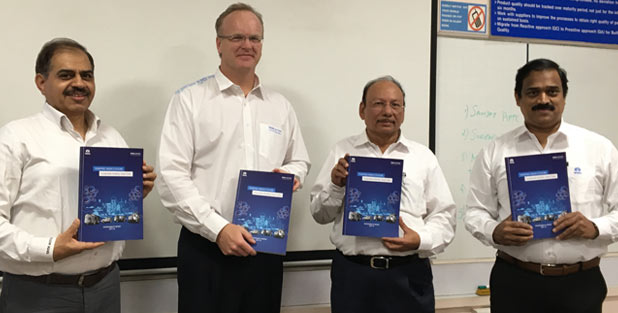 Speaking on the occasion, Mr. Guenter Butschek, MD & CEO, Tata Motors said "With rapid technological advancements in the field of autonomous, connected, electric and shared vehicles, a comprehensive approach to sustainable development of the entire ecosystem is crucial. Tata Motors has been leading the technology changes in the industry while at the same time striving hard to institutionalize sustainable practices in every aspect of business. Our approach to sustainability is not a mere compliance one but a continuous improvement one with inclusiveness at its core. With this objective, we have launched the Sustainability Policy for Tata Motors."
By aligning the firm's work with the Sustainable Development Goals (SDGs), Tata Motors has brought about transformational changes not just within the businesses but also for driving change within the societies that they serve globally. Key highlights of the initiatives and achievements by Tata Motors are listed below:
Advance Technology Vehicles: The Company is committed to the Government's vision for electric vehicles and is working in a collaborative manner to facilitate faster adoption of electric vehicles – to build a sustainable future for India. It has delivered the first set of Tigor Electric Vehicles (EVs) to Energy Efficiency Services Limited (EESL) and Tata Starbus Hybrid Electric Buses to Mumbai Metropolitan Region Development Authority (MMRDA).
Reducing Carbon Footprint of Operations: The Company has increased the share of renewable energy from 16.34% in 2016-17 to 20.76% in 2017-18 of the total electricity consumption. Demonstrating leadership in this area, the company has joined RE100 campaign (a drive led by the Climate Group) and aspires to move operations on renewable energy in near future.  The company is sourcing the renewable energy (wind and solar) through captive generation as well as on-site and off-site Power Purchase Agreements (PPAs).
Strengthening Waste Management: Driving on the theme "Value from Waste" across their manufacturing facilities in India, Tata Motors is extensively working on 3 R's i.e. Recycling, Reuse and Recovery. The company is constantly exploring innovative solutions for eliminating and minimizing the generation of waste at the source itself. In 2017-18, company reduced the quantum of Hazardous waste disposed to CHWTSDF by 15% over 2016-17. Tata Motors continues to practice and make interventions to achieve Zero Liquid Discharge and Zero Waste to Landfill status.
Eco-friendly Materials: The company has taken-up several initiatives to promote the use of green materials; i.e. Green Plasticizer, Primer-less Windshield Glass Sealant, Composite Brake Drum and Leaf Spring. Integrating the Circular Economy approach, the company has also successfully completed a pilot on closed loop plastic recycling by making a new plastic component out of scrap.
Safety and Employee Health: Employees constitute one of the most important elements of Tata Motors and their safety has always been a top priority. In the last financial year, the company improved the safety performance by 38% and employee Health Index by 0.5. For the current year, they have set stretched targets on health & safety and have identified the critical focus areas for achieving them.
Building the Socially Responsible Value Chain: In 2017-18, Tata Motors' manufacturing plants locally sourced 57.88% of materials and services by suppliers based within the state where the plants are located. The Company is implementing the Sustainable Supply Chain Initiative in a phased manner and covered additional 66 suppliers in Phase-II (Total 118 in last 2 years) under the on-site sustainability assessment.
Tata Motors has successfully aligned their sustainability strategy to their business vision of 2019 and will continue to approach sustainability in an all-inclusive way. With set performance parameters for all the material issues, they have developed action plans for achieving the same in this fiscal year.