Global Wind Day, a Pre-Event Celebration, organized by The National Institute of Wind Energy (NIWE) – jointly by the Ministry of New and Renewable Energy (MNRE), Indian Wind Turbine Manufacturers Association (IWTMA), Indian Wind Power Association (IWPA) and Wind Independent Power Producers Association (WIPPA), on Friday 2nd June 2023, at the National Institute of Wind Energy, Chennai.
Welcoming the gathering and on his opening remarks, Dr Rajesh Katyal, Director General, NIWE  said that the Honorable Prime Minister gave an announcement India will reach renewable energy target of about 500 GW by 2030 and as on 30th April 2023, we have reached the target of about 172.4 GW of renewable energy, and out of which whether renewables wind and solar taken a lead role, wind has about 43 GW; and, solar is about 67.8 GW. Now very recently, the large hydro also ministry has taken a decision to include into the renewable energy sources. So large hydro also has taken about 47 GW capacity installations; balance comes from the bio which is about 10 GW and small hydro which is about 5 GW.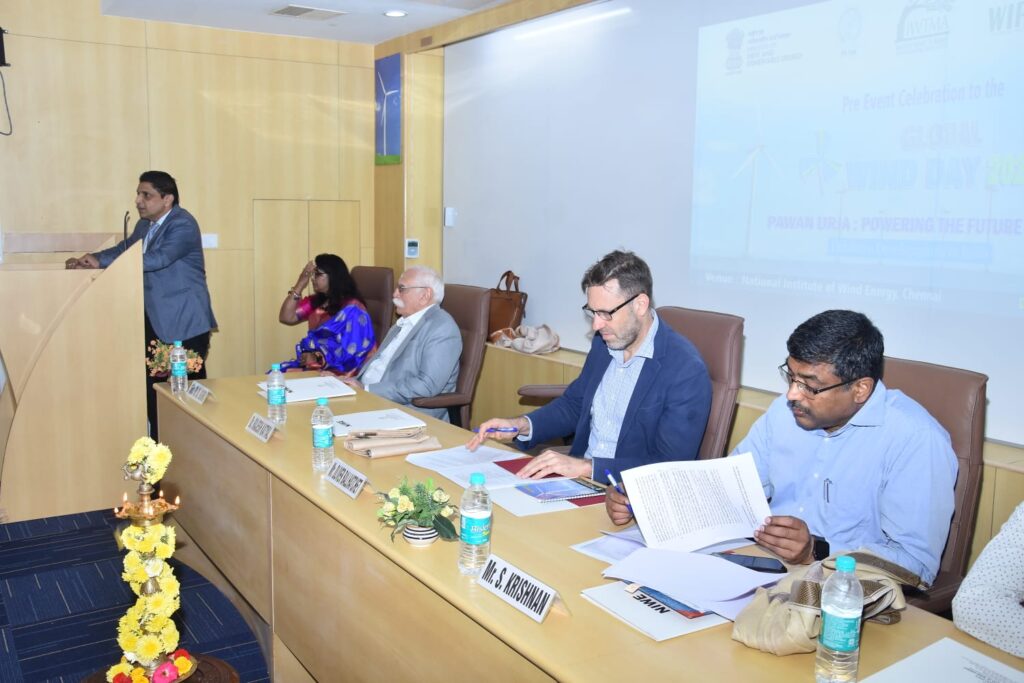 41% of the penetrations into the Indian judicious mix is by the renewable energy sources and about 84 GW of the Renewable energy projects are under the various stages of implementation across the country and about 45 megawatts of renewable energy projects around the bidding stage. If you cumulate all these number of 172 which is installed, 45 of bidding and 84 of the advanced into implementation, we have already touched the number of about 301 GW as against the 500 GW target of 2030. So which would mean that we have to go 200 GW in next seven years to achieve the target which is being set by the Government of India.
D V Giri, Secretary General of IWTMA said that the wind power sector had not been doing well, in the last 7 years, but now we can be proud of having a 15 GW manufacturing capacity in the country. With the State of the art facility – right from 250 kilowatts to 5.2 MW on shore turbines which is being supported very well by component industry, with the result that today we are almost about 70 to 80% localized and we produced one of the lowest costs turbines and projects in the world. At present, the renewable energy mix of the country is around 172.4 MW of which wind's share is around 42 to 43 GW, We are informed by the ministry that they would be shortly bringing RPO mandated under the Energy Conservation Act which is a really wonderful thing. The projects are being set up in five states—Tamil Nadu, Karnataka, Andhra Pradesh, Telangana, and Maharashtra, totalling around 2.5 GW, under closed bidding first tender – different tariffs for different states. 'Wind is something divine and Wind is the future'
Dr P K Dash, Scientist MNRE in his opening remarks said that right now what we see from the industry side, many a times these implementation issues relating to onshore trade related to land availability. And whenever implementing projects offshore, which are very cost, capital intensive and very competitive. So they reached the maximum risk which has to be taken by the public authority. We have all those risk areas and we are trying our best to ease out all these risk areas wherever possible. And maximum risk must be given to the public authority for the initial fee. And to create that ecosystem, some financial assistance also required from the beginning.
We have done a study to know the development models, 17 of some markets. And what we realized is every country started with centralized feasibility study, resource assessment, green availability, everything and the project is either through a present tariff model or a US model. So it is better to involve the private stakeholders from the beginning so that they can do the feasibility study of the resource mapping and all those studies, surveys well before the Commission.
His Excellency Oliver Ballhatchet MBE, British Deputy High Commissioner, Chennai, on his special address said that it's cheaper to produce renewable energy and offshore wind than fossil fuel energy and so they have 40 GW of installed capacity in the UK – about 8 GW in the pipeline. And 69 projected, for the target 2030 is 50 GW of its local capacity. UK Climate Change Committee estimated that they would need 100 GW of offshore wind by 2015, got 50.50 GW by 2050. And some of this included – floating offshore wind as well, of course. Scotland also the home of the world's first floating offshore wind farm called highwind, with a capacity 30 megawatts and also the world's largest floating offshore wind farm with a capacity of 48 megawatts and this is important in the UK. In 2015, signed strategic MOU between the UK and India on energy cooperation and this, includes cooperation on solar, offshore wind, hydrogen.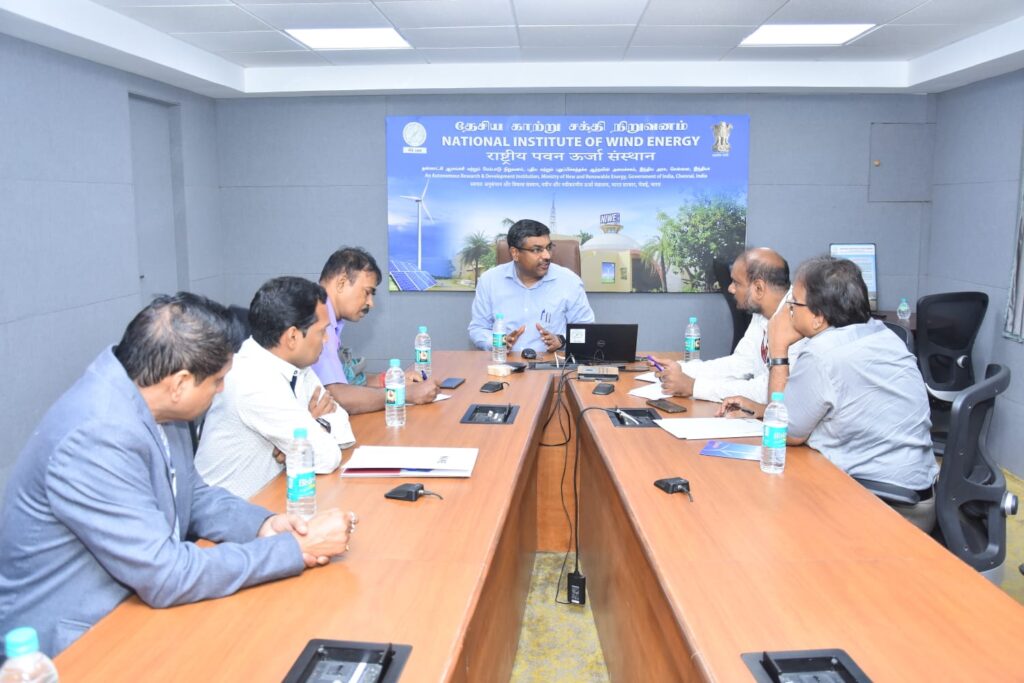 S. Krishnan, Additional Chief Secretary, T.N. Government, said that the state government suggested to MNRE, both model-II and model-III be put out all together. The State government had quoted a price of of ₹3 kw per hour, but after negotiating with the ministry, the government agreed to pay ₹4 per kw/hr, and the contributing factor being shifting from Reverse to Closed bidding. The state govt. expect tenders for both open access (4GW) and under the viability gap funding VGF scheme (4GW) simultaneously. Cost of producing offshore wind power was earlier around Rs.6 to Rs 7.5 kw/h. The Central Govt. would bear the open access cost of offshore wind power which is sold in the exchange while offering subsidy to the state, under VGF. The state  govt. desires to have some portion of the offshore wind power (4GW), through open door policy, it is learnt.