Tamil Nadu today is one of the top 10 automobile hubs in the world, with Chennai having the capacity to produce about 1.4 million cars a year, or 3 cars every minute.
While India was still shaking off the lethargy of licence/permit raj in the mid-nineties, one lady helped build the Detroit of India in Chennai, bringing the world's top automobile brands to the capital of Tamil Nadu.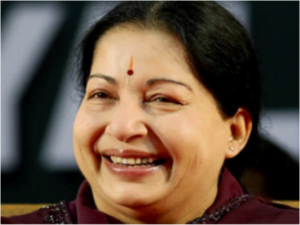 1. Jayalalithaa had taken the reins of power in the state in 1991, the same year India opened up its economy and welcomed private and foreign investment. In 1995, she pulled off a coup when Ford Motor Co. decided to set up its first manufacturing plant in the country in Maraimalai Nagar, around 60 km from Chennai, beating competitors such as Maharashtra and Karnataka.
Even though Tamil Nadu already had domestic auto manufacturers such as Royal Enfield, Ashok Leyland Ltd, Tractors and Farm Equipment Ltd (TAFE) and TVS Motor Co. Ltd, the Ford factory marked the arrival of Chennai as a hub of automobile and component manufacturing.
How the Tamil Nadu economy fared under Jayalalithaa
Ford was followed by Hyundai Motor Co., BMW AG, Daimler AG, Renault-Nissan Alliance, Mitsubishi Motors Corp. and Yamaha Motor Co. Ltd. Along with them came an array of auto component makers who built a world-class ecosystem for automobile manufacturing.
Today, Tamil Nadu is one of the top 10 automobile hubs in the world. Chennai has the capacity to produce about 1.4 million cars a year, or three cars every minute. In a 15 September 2015 speech at a global investors meet in Chennai Jayalalithaa said, "…Chennai will become the world's largest car manufacturing hub. My vision to make Tamil Nadu a world leader in manufacturing is becoming a reality".
The transformation did not happen overnight.
At the same time that Ford made its entry and sales in the Indian market were still not significant, a South Korean company was trying to secure a share of India's small car market. The situation was challenging for Hyundai Motor India Ltd, which wanted to create a manufacturing base in Chennai, which so far was not in the league of automobile belts like Gurgaon or Pune.
"The challenges faced by the company were the complex approval systems by the government—the processes were not mature then," recalled a former Hyundai executive, who was part of the team that helped the Korea giant set up operations in India.
"Investments then were only made by PSUs (public sector units). Hyundai's investment was the second mega project in Tamil Nadu, after Ford. So, the processes and systems for approval systems were not mature yet," he said on condition of anonymity.
Finding skilled manpower and then training them for the shop floor, and developing an efficient vendor base were some of the major challenges, he said.
Hyundai wanted its vendor base closer to its manufacturing facility. It was the first company to introduce a single-vendor system in India. While an army of Korean vendors accompanied the carmaker from Seoul to Chennai, most Indian vendors based in northern India moved south to meet Hyundai's demand. Back then, the average investment required by vendors in Chennai was Rs10-15 crore. So far, Hyundai vendors have invested about $1 billion.
"People said we won't be able to sell more than 35,000 cars in a year," the former Hyundai executive said.
The company not only added a second shift in the first year of operation itself, but also broke even within a year. While it capitalized on India's growing fancy for small cars, a faster break-even was also helped by a massive cost-efficiency programme, the executive said.
In 2015-16, it sold 484,324 cars, and exported 162,221.
"One of the reasons for the company achieving faster break-even was the cost-efficiency with which it was operating. When we began, we did not want to pass on cost increases to customer and looked inward to cut costs and in vendors as well," he said.
Hyundai achieved 70% localization when it began, when other multi-national OEMs were at 40% localization.
For Jayalalithaa, the success of Hyundai became a calling card.
"She did a great deal, if you just look at the last five years—Nissan, Daimler, BMW, Yamaha (have come in)… She put Chennai on the global map. Her global investor meets were immensely successful," said Venu Srinivasan, chairman and managing director, TVS Motor and Sundaram Clayton. The latter, an auto parts maker, was the first Indian and fourth non-Japanese company to win the prestigious Deming medal for quality in 1998.