One day summit fromThe Economic Times begins on the 24th June
The  Economic  Times  has  always  believed  in  the  nation's  growth  and   considers   that   India's   overall   industrial   progress   prevails   in  meeting  the  end  demand  of  the  customers.  Thus,  an  effective  supply  chain  management  is  an  important  tool  in  improving  the  overall  performance  in  today's  global  competitive  environment.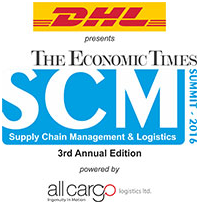 Keeping the above points in mind, and with the immense success of its first and second editions of the Supply Chain Summit in 2014 &2015,  now announced its third  edition  of  the  ET  Supply  Chain  Management  Summit  2016, in Mumbai on the 24th June.
This  Summit  aims to  bring  together  industry  leaders,  supply  chain  experts  –  International  &  National,  and  Government  bureaucrats  to  discuss  the  best  practices,  innovative  trends  in  technology, the leading SCM strategies affecting the supply chain, the current rules and regulations and  most  importantly,  the  growth  prospects in the supply chain in India.
The panel will discuss on Developing an integrated Supply Chain: Agile & Future Ready ;  Shaping the Culture of Supply Chain excellence: The Role of the Leadership Team;  Heavy Engineering, Supply Chain Management, Logistics & Distribution; Bridging the gap between retail store and online marketplace.
A quick view on Logistics Spent Data by 2015 –  courtesy: FE