SpiceJet, the country's favourite carrier, today unveiled its first Boeing 737 MAX 8 aircraft at a grand ceremony at Delhi's Indira Gandhi International airport. SpiceJet had signed a $22 billion deal with Boeing for up to 205 aircraft in 2017 and this is the first aircraft delivery from that mega order.
"We are excited to take delivery of our very first 737 MAX 8," said SpiceJet Chairman and Managing Director Ajay Singh. "The induction of our first MAX is a huge milestone in SpiceJet's journey. These new airplanes will enable us to open new routes, while reducing fuel and engineering costs, as well as emissions. The 737 MAX will dramatically reduce noise pollution and greenhouse gas emissions. Passengers will benefit from a large number of premium seats and, for the first time in India, broadband internet on board."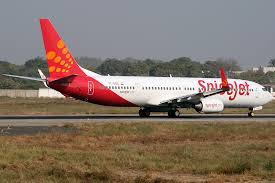 In line with SpiceJet's tradition of naming its airplanes after spices, the new 737 MAX has been christened 'King Chilli'.
SpiceJet's state-of-the-art MAX are equipped with Satcom that will enable SpiceJet to offer internet on board services at the earliest once regulatory and government approvals are in place. The MAX 8 can fly up to 3500 nautical miles which is approximately 19% more than 737-800 enabling the airline to fly to newer destinations.
The 737 MAX is the most environmental friendly aircraft. It uses up to 14% less fuel than older 737s. The new CFM Leap engine, made from ultra-light and ultra-strong carbon blades, increases fuel efficiency of the MAX by 12%, the all-new advanced technology winglet increases fuel efficiency by 1.8% and the new tailcone by another 1%. The new jet has 40% lesser noise footprint translating into a quieter and silent cabin. The nitrogen emissions of 737 MAX has been reduced by 50%.
For SpiceJet's full fleet of up to 205 airplanes, the MAX will emit up to 750,000 fewer metric tons of CO2 and save up to 240,000 metric tons of fuel per year, which translates to more than $317 million in cost savings annually*. Lower cost and lesser days out of service results in up to $4 million savings.
SpiceJet plans to use the 737 MAX to expand and standardize its fleet while focusing on increasing their international and regional presence. Delhi-Hong Kong, which would SpiceJet's eighth international destination, will be exclusively serviced by the 737 MAX.
The Boeing 737 MAX can fly non-stop to Singapore, Doha, Kuwait, Abu Dhabi, Riyadh, Kuala Lumpur, Tehran, Salalah, Kunming (China), Krabi among other international destinations from various international airports in India. With a one-stop, the aircraft can easily fly up to Finland, Norway, Morocco, London and Amsterdam.
SpiceJet's first MAX, having the unique registration VT-MAX, was unveiled in the august presence of Shri R. N. Choubey, Secretary, Ministry of Civil Aviation; Dinesh Keskar, Senior Vice President, Sales and Marketing, Asia Pacific and India, Boeing Commercial Airplanes; Ajay Singh – Chairman & Managing Director, SpiceJet and senior government and aviation officials.
"India is a fast growing market for commercial airplanes and services," said Ihssane Mounir, Senior Vice President of Commercial Sales & Marketing for The Boeing Company. "The 737 MAX for SpiceJet is the perfect airplane for this market and it will become a key ingredient for long-term success, especially as oil prices continue to put pressure on airlines. The market-leading efficiency and reliability of the MAX will pay immediate dividends for SpiceJet's commercial operations."
SpiceJet's 737 MAX 8 comes with all-new interiors. Inspired by the 787 Dreamliner's advanced aesthetics, the cabin design promises to redefine travelers' experience. Instead of shelf-type stow compartments bordering the aisle, the 737 Boeing Sky Interior features stow bins that tuck up and are out of the way when closed. This results in a roomier, more open in-flight environment with unobstructed views, whether passengers are standing or seated.
An advanced light-emitting diode lighting scheme washes the ceiling with blue light, which suggests an open sky overhead and makes the airplane feel more spacious, besides enjoying elegantly accented view from larger windows. The new ergonomically designed seats are light weight optimizing cost by saving fuel besides offering a better legroom and exceptional comfort.
The flight controls' fly-by-wire spoilers replace the mechanical system to achieve weight reductions. The aircraft is also equipped with anti-icing and electronic bleed air features that ensure the most efficient air conditioning.
The aircraft comes with the largest forward display screens in the cockpit, measuring up to 15 inches. The bigger displays, being the best in current and future technologies, are designed to offer aeronauts more information with less effort thus improving efficiency and making tasks easier at critical times, ultimately increasing safety in the air.
SpiceJet's MAX comes equipped with bigger but a lighter engines and loads of new features which is all set to revolutionize the single-aisle market. This extremely durable and impact resistant engine sits higher up and further forward on the wing thereby streamlining the airflow around the wing. This reduces the drag and enhances fuel efficiency. The engine's advanced materials make it more than 500 pounds lighter and more powerful thus helping the jet produce gains in range, fuel efficiency and environmental friendliness.
One of the most striking and distinct feature of SpiceJet's new 737 MAX aircraft is its aerodynamically advanced winglets. The AT (Advanced Technology) winglets have no metal visible on the leading edge. The blended winglets are designed with a special material and coating that enables the natural laminar airflow to reduce drag and create additional lift that raises fuel efficiency by up to 2%.